Don't just read this, Take Action! More Here.
Our organizing has already made a difference.
See below and the next page for Pelosi voting record.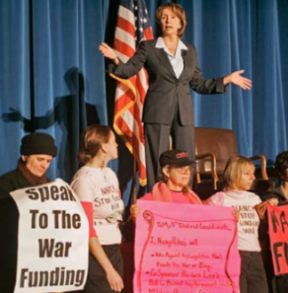 Congresswoman Nancy Pelosi, House Democratic Leader, has a reputation of being a "liberal". She has been elected to represent San Francisco, a city known for its progressive history in supporting labor, civil liberties, and the cause of peace. Yet while giving lip-service to some of these causes, she has often been the spokesperson of an unjust status quo. Pelosi may be called a "liberal", but she is very much opposed to liberation.
Pelosi's history of support for the military occupation of Palestine, her unqualified support for Sharon's policies, exposes Pelosi not as a woman of principle, but is just one example of Pelosi's dedication to the politics of ruthless expediency. By not questioning U.S. policy, and supporting the policy of special interests (like AIPAC, an organization that seeks to keep U.S. policy in line with the needs of Israel), she has gained great power, and may very possibly be the next Speaker of the House. Yet, her subservience to the militaristic approach in regards to Israeli/Palestinian conflict has come at great cost to the people of the region, especially the Palestinians who suffer from military occupation, and also to those Israelis who work tirelessly to stop the violence done in their name. It is also an affront to the people of Bay Area who have a very different set of values, who believe in co-existence based on justice instead of military occupation extended through brute force.
Pelosi & Iraq
See Update regarding Pelosi support for Murtha Resolution.
Pelosi has again shown herself to be completely out of touch with her constituents after she voted against a modest proposal offered by Congresswoman Woolsey that would eventually remove the U.S. military from Iraq.
Pelosi has "requested" to President Bush that he produce a give a report to Congress on what conditions he plans to remove the troops from Iraq. A careful reading of what Pelosi proposes and you will see this:
ôSpecifically, my amendment would require that the President, within 30 days of the enactment of the defense appropriations bill, submit to Congress a report identifying the criteria that will be used to determine when it is appropriate to begin to bring our troops home from Iraq. It does not require the troops to be brought home by a particular date; it requires only that the means for judging when they can be brought home be shared with the Congress. " - Nancy Pelosi Press Release
Pelosi is responding to pressure from those who want an end to the nightmare in Iraq, and we can see she is already feeling the heat.
Update! Pelosi supports Murtha Resolution. Previously had not called for immediate withdrawal, Pelosi changes her tune.
In late November, Nancy Pelosi offered support for the Murtha resolution. This resolution is one of the best offered in Congress so far, despite some serious shortcomings. On the plus side, it says that the US should withdraw, without qualifications about what the political situation in Iraq. On the negative side, it asks for redeployment "over the horizon", meaning Kuwait or some such place, leaving US troops and military bases in the Middle East. See Here for a good and brief analysis of the proposal. Beyond the shortcomings of the resolution, Nancy still insists on funding the war. She also continues to support the most extreme policy positions of the Israeli government.
There is no doubt that our work has made a difference in Pelosi's position on the war. Now let us continue to demand that she take a fair position on the question of Palestine, and cut off all funding for this illegal, immoral war in Iraq.