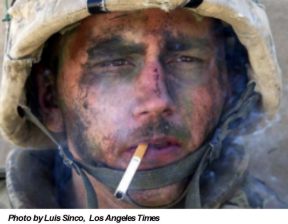 The battle-weary face of Marine James Blake Miller, widely known as the "Marlboro Man", became famous following the horrendous battle of Fallujah, Iraq, in November 2004. It personified, for some, the dedication of those who have been sent to fight in Iraq. Now Blake Miller is discharged, back home in Kentucky. He has been diagnosed with Post Traumatic Stress Disorder.
You can read more about this man's continuing struggle from an excellent and compassionate piece by Matthew Stannard of the San Francisco Chronicle here. It is encouraged that folks take the time to read the full article, We owe it to Iraq Veterans to really listen to what is happening with them after they come home. They need our full support, not to continue in an unjust and illegal war, but to help heal the wounds of this war. Some excerpts are below.
Flash Animations - No Bravery, Only Sadness in Your Face
James Blunt is a gifted British musician that has seen war himself. He wrote a song called "No Bravery" while he was stationed in Kosovo. "Billy Pilgrim" uses that music in this powerful animation that captures the anguish of the war, and ends with the photo of Blake Miller. See it here. Another excellent flash animation, is done to the same song by the young woman who created PeaceTakesCourage.com. Check out Ava's work.
"It's one thing to be shot at, and you shoot a couple rounds back, just trying to suppress somebody else," Miller said. "It's another thing when you see a human being shooting a round at you, knowing that you're shooting back with the intent to kill them. You're looking through a scope at somebody. It's totally different. You can make out a guy's eyes."
...
His family is still missing Blake Miller -- the Miller who left Kentucky for Iraq a couple of years ago.
The man who left was easygoing, quick to laugh, happy to sit in a relative's house and eat and smoke and talk. The man who came back is quick to anger, they say, and is quiet. He still smiles often but does not easily laugh.
And when he takes a seat in his adoptive grandmother's home, amid her collection of ceramic Christ figurines, it is in a chair that faces the door.
Mildred Childers, who owns those figurines, sees Miller's difficulties as a crisis of faith. She still remembers Miller's call just before the assault on Fallujah, and his terrible question: "How can people go to church and be a Christian and kill people in Iraq?"
"He was raised where that's one of the Ten Commandments, do not kill," she said. "I think it's hard for a soldier to go to war and have that embedded in them from small children up, and you go over there and you've got to do it to stay alive."
...
Miller himself seems torn -- proud of the troops fighting for freedom, but wondering whether there was a peaceful way, to find terrorists in Iraq without invading.
There was no time for such questions in Fallujah. But now, at night, when he can't sleep, Miller thinks of the men he saw through his rifle scope, and wonders: Were they terrorists fighting against America? Or men fighting to protect their homes?
"I mean, how would we feel if they came over and started something here?" he asked. "I'm glad that I fought for my country. But looking back on it, I wouldn't do it all over again."
This page dedicated to Blake Miller, and the men and women like him, suffering from wounds, both visible and not, back from Iraq and continuing the struggle to heal from the war. Join their fight for full funding of Veteran Hospitals and treatment centers.
| | |
| --- | --- |
| | Bring the Troops Home Now |
| | By September 21, Establish a Comprehensive Plan to End the US War in Iraq |
| | Oppose Future US Military Invasions |
Take Action to End this Illegal War.