Here at TomJoad.org we are continually thinking of new ways to honor those who have done something special to further the agenda of Bush & Company. We have finally decided upon a special award, one that will be presented by no one less than President Bush himself. We call it the Presidential Finger Award® or, as it is affectionately known, "The Finger". See here for past winners.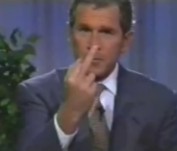 Here Mr. Bush expresses something "special", and from the heart. Obscene? Well yes, yes it is. That is why we are using this gesture to honor those who have, in their own way, advanced the agenda of militarism, economic injustice, racism- the real obscenities. It is our way of saying, "Bush & Company, Right Back at Ya!" Click Photo to view short video. [Requires QuickTime Player]
Now the winner is...
Michael R. Gordon & New York Times

"See, in my line of work you got to keep repeating things over and over and over again for the truth to sink in, to kind of catapult the propaganda." President George W. Bush, May 2005
For President Bush to be successful in his "line of work" (promoting endless war) he needs help to catapult the propaganda for his "truths" which we find aren't really truths, more like, well, bags of horseshit, which they use to bury the truth. Mr. Gordon was there to help to win the propaganda war to support war with Iraq. He is there to help win over public opinion for a war with Iran. The New York Times backs him all the way.
That finger is for you, Michael.
For more on Michael's work, and the work of the New York Times, please see this installment of Democracy Now.
"Our only hope today lies in our ability to recapture the revolutionary spirit and go into a sometimes hostile world declaring eternal hostility to poverty, racism, and militarism."
-- Martin Luther King Jr.