You may be amused by some of these quotes, for those few moments before it is remembered that many of these people are in public office, or positions of power, misrepresenting nice folks like you and I, and their intention was not to make you laugh, but they are just sharing their own unique perspective with the rest of us. Other quotes are just plain scary, and you wonder why this person is allowed to walk the streets when he or she is clearly a danger to others. All of these quotes have been documented; names have not been changed to protect the foolish. And do expect to find a Democrat on occasion making the list. We at TomJoad.org are equal opportunity lampoonists.
Note: We will rarely be including quotes from the Clown-in-Chief, George W. Bush, except when we just can't help it. This is just too easy. There is already a cottage industry (and for filmmaker Michael Moore, something larger than a cottage) that has grown around that opportunity, see for example, the Complete Bushisms, by Jacob Weisberg.
Don't miss the
Presidential Finger Award® given to the organization/ individual who best advances Bush's agenda of militarism, racism, or economic injustice. See the latest winner right here.
If you come across a news item that you will like added, please send it to Tom Joad .
Table of Contents:
From Homeland (In)security to Home Depot.
Say the War is for "Democracy" or you will be arrested.
Giving Military support to Iran & Iraq
Favored Son, I support the war, but my son gets out of it
George Hates Tom Joad
George W. Bush was introduced to the film "The Grapes of Wrath" as a student at the Harvard Business School, where he got admitted on his family's name. "I wanted to give the class a visual reference for poverty and a sense of historical empathy," macroeconomics professor Yoshi Tsurumi told a researcher for Kitty Kelley's book, "The Family: The Real Story of the Bush Dynasty."
"George Bush came up to me and said, 'Why are you going to show us that commie movie?'" Tsurumi recalled. "I laughed because I thought he was kidding, but he wasn't. After we viewed the film, I called on him to discuss the Depression and how he thought it affected people. [Bush] said, 'Look, people are poor because they are lazy.' A number of students pounced on him and demanded that he support his statement with facts and statistics. He quickly backed down because he could not sustain his broadside."
Above from Common Dreams. Note that this man has taken more vacations than any other modern President, even while a portion of the United States is facing its worst natural disaster.
A General's Fun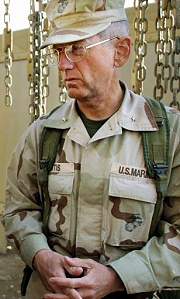 "It's fun to shoot some people," said the Marine Corps Lt. Gen. James Mattis (Mattis is at present the commanding general of the Marine Corps Combat Development Command in Quantico, Va., and deputy commandant for combat development). while speaking at a forum in San Diego. His comments though appeared funny to some at the forum, have led to annoyance of many including his higher officials.
"Actually, it's a lot of fun to fight. You know, it's a hell of a hoot. ... It's fun to shoot some people. I'll be right upfront with you, I like brawling.''
In "explaining" the comments made by Mattis, Marine Corps Commandant General Hagee said in a statement "While I understand that some people may take issue with the comments made by him [Mattis], I also know he intended to reflect the unfortunate and harsh realities of war.''
No, General Hagee, we understand what Mattis really said. And we know why people who refuse to follow the orders of such men as Mattis should be called heroes.
Iraq War is for "Democracy". Say otherwise and you risk arrest.
While there are no consequences to voicing blatantly homicidal inclinations in the military (see above), there can be serious jeopardy from the Pentagon if there is any expression of doubt about the real reason for the war on Iraq. Take the case of Drew Plummer from North Carolina who enlisted during his last year in high school, just three months before 9/11.

Home on leave, he joined his father, Lou, at a "bring our troops home" vigil. Lou Plummer is a former member of the U.S. 2nd Armored Division whose father, unlike Bush, served his country in Vietnam. Asked for his opinion on Iraq by an Associated Press reporter, Drew Plummer replied, "I just don't agree with what we're doing right now. I don't think our guys should be dying in Iraq. But I'm not a pacifist. I'll do my part."

So what happened when Drew spoke his mind (and not about the fun of killing people)? Free speech has a price for the military in the United States these days. The U.S. Navy charged Drew Plummer with violating Article 134 of the Uniform Code of Military Justice: disloyal statements. At his official hearing, he was asked if he "sympathizes" with the enemy or was considering "acts of sabotage." He was convicted and demoted.


<! see http://www.hoosiergazette.com/News/Nov2004/news003.htm >
Saving the Nation from the threat of SpongeBob

James Dobson, founder of "Focus on the Family" , and whose anti-gay rants

(Dobson's propagation of misinformation on AIDS was declared "despicable" by former Surgeon General Everett Koop.) and promotion of terrorism against abortion doctors has made him an icon of the loony religious right, has taken on the task of protecting the good people of the USA from the scourge of Spongebob, and the idea of tolerance, which he finds to be very threatening.
Dobson believes that SpongeBob's creators had enlisted him in what he sees as a "pro-homosexual video," in which he appeared alongside children's television colleagues like Barney and Jimmy Neutron, among many others. The makers of the video, he said, planned to mail it to thousands of elementary schools to promote a "tolerance pledge". This tolerance pledge is bad, because for Dobson accepting all people, including gays, as part of the human family, is just plain dangerous.
Dobson, do you really think you are going to win against someone allied with Winnie the Pooh?
Seriously though, why not protect children from something more real, like, say, war for example. In light of Dobson's support for the culture of death and destruction being visited upon Iraqi families by supporting the U.S. military occupation, what can the world's children do to protect themselves from the likes of Dobson and his ilk?
General Sees Satan in the Sky
Lt. General William Boykin, whose title is under secretary of defense for intelligence and war-fighting support, is a rightwing religious nut.
In full military regalia, he's been speaking before like-minded audiences, telling them that the United States is a "Christian nation" and that Muslims worship an "idol," not a "real God," as NBC and The New York Times have reported.
The commander of U.S. troops in Somalia during the days of Black Hawk Down, General Boykin tells Christian audiences of how he encountered a Muslim warlord who invoked Allah. Boykin tells the audience: "Well, you know what I knew, that my God was bigger than his." (Does size really matter?)
It gets wackier.
General Boykin, at some of his presentations, shows slides of Mogadishu with objects in the sky that he calls representations of Satan. (Mental Health workers call this a hallucination)
And he says that the only reason Bush is in the White House is because of divine intervention [Note: Enron Corporation donated millions to the effort to stifle the recount in Florida in the 2000 election, Boykin may be confusing Enron for the Deity, as many Republicans are apt to do.]
"The majority of Americans did not vote for him," he said. "Why is he there? … Because God put him there for a time such as this."
In Seymour Hersh's book, Chain of Command, Hersh says he was repeatedly told that Boykin was involved in drawing up policies that led to the abuse at the Abu Ghraib prison in Iraq.
General Jack D. Ripper Lives!
No room for tolerance here, Boykin is a man on a religious crusade. Do you think he could take on SpongeBob?
Col
onel

Sees Satan in the people of Fallujah

In November US Marine Colonel Gareth Brandl justified the U.S. attack on Fallujah saying: "The marines that I have had wounded over the past five months have been attacked by a faceless enemy. But the enemy has got a face. He's called Satan. He lives in Fallujah. And we're going to destroy him."

"Satan" was not destroyed by the U.S. military in Fallujah. But a city of nearly 300,000 has been destroyed. Many of the inhabitants left before the attack by the US military. They live in refugee camps in tents. They are slowly returning to their destroyed city. Many children are still at risk of malnutrition and water-borne diseases.

Brandl might do well to recall the traditional meaning of the religion of Jesus. That of seeing the God incarnate in all, especially those in need.

"For I was hungry, and you gave Me something to eat; I was thirsty, and you gave Me drink; I was a stranger, and you invited Me in; naked, and you clothed Me; I was sick, and you visited Me; I was in prison, and you came to Me.... to the extent that you did it to one of these brothers of Mine, even the least of them, you did it to Me."

A traditional Christian would see Jesus hungry in the refugee camps, being tortured in Abu Ghraib, in the eyes of an Iraqi woman who has just lost a child. Those traditions are at odds with Bush's war without end. No room for compassion and mercy in this war. No room for the spirituality of Jesus. It seems that many have adopted their religion to fit the needs of the State, of the god of War.
Female Politicians against Women's Suffrage, Unite!
"I'm an old-fashioned woman," State Senator Kay O'Connor of Kansas told The Kansas City Star. "Men should take care of women, and if men were taking care of women (today) we wouldn't have to vote."
O'Connor says if women's suffrage were being voted on today she would not support it, because the 19th Amendment was the start of a decades-long erosion of "family values".
The 19th amendment giving all U.S. women the right to vote was ratified in 1920. O'Connor said the amendment began a societal shift that eventually encouraged women to trade homemaker roles for careers.
She said she entered the workplace only because of her daughter was ill and medical bills were mounting.
It is safe to say she does not support a national health care system, either.
Fakin' the Books, The Case of Kate Coleman
In a controversial book, The Secret Wars of Judi Bari, a "biography" of the late environmentalist-labor activist Judi Bari, Kate Coleman, (that book was brokered by rightist David Horowitz) it states that another famous environmentalist, Julia Butterfly Hill, drives a gas guzzling Lexus SUV.
In fact, Julia Butterfly does not own a car, and does not even posses a driver's license.
Coleman, was contacted by a columnist for the East Bay Express about this discrepancy. Coleman responded by saying "I apologize if it was taken as a fact."
And we regret the whole book was not labeled as fiction. <! seehttp://www.eastbayexpress.com/issues/2005-02-02/news/bottomfeeder.html >
Bury the Books!
A bill by Rep. Gerald Allen, R-Cottondale, a Georgia State lawmaker, would prohibit the use of public funds for "the purchase of textbooks or library materials that recognize or promote homosexuality as an acceptable lifestyle." Allen said he filed the bill to protect children from the "homosexual agenda."
Allen said that if his bill passes, novels with gay protagonists and college textbooks that suggest homosexuality is natural would have to be removed from library shelves and destroyed.
"I guess we dig a big hole and dump them in and bury them," he said.
If the bill became law, public school textbooks could not present homosexuality as a genetic trait and public libraries couldn't offer books with gay or bisexual characters.
When asked about Tennessee Williams' southern classic "Cat On A Hot Tin Roof," Allen said the play probably couldn't be performed by university theater groups.
Such a ban could also include classic and popular novels with gay characters such as "The Color Purple," "The Picture of Dorian Gray" and "Brideshead Revisted."
Aside from the moral debates, the bill could be problematic for library collections, said Ms. Owes, director of the Montgomery City-County Library.
"Half the books in the library could end up being banned. It's all based on how one interprets the material," Owes said.
An optimist would see Alabama's libraries as potentially half-full.
What is it with Republicans and fictional characters?
No word from Mr. Allen on what should be done on books that present wildly polygamous characters as an acceptable lifestyle, such as King Solomon.
Cookin' the Books: Enron grabs the money from Grandma Millie
What does the corporate dudes in Enron, based in Houston, formerly a big contributor to the Republican Party (and to a lesser extant, the Democratic Party, who engineered the deregulation of energy in California much to Enron's profit), think of common folks like generic electricity consumer "Grandma Millie" in California? They made tapes, and as Nixon would say, this has gotta be a bad idea.
Enron Corp. traders conspired to shut down a healthy power plant as blackouts rolled across California in early 2001, according to documents released February 4, 2005.
In the brash language that has become a familiar coda to the electricity crunch, Enron traders and others were captured discussing in e-mail messages and telephone conversations how they could profit from the state's problems.
In one transcript released Thursday, an Enron trader identified only as Bill called it "a good plan" to shut down a small Las Vegas power plant on Jan. 17, 2001, under the guise of "checkin' a switch on the steam turbine." Enron employees also suggested that their plans to exploit Western energy markets predated the meltdown of 2000 and 2001, which brought record electricity prices and emergency blackouts.
We also hear what they think of common consumers like "Grandma Millie", mentioned in one exchange recorded between two Enron employees.
Employee 1: "All the money you guys stole from those poor grandmothers in California?
Employee 2: "Yeah, Grandma Millie man.
Employee 1: "Yeah, now she wants her fucking money back for all the power you've charged right up, jammed right up her ass for fucking $250 a megawatt hour."
Yes, someday, all of us are going to get together and take it all back. All of it, with interest. Watch out Enron, beware Halliburton, look out Bechtel. It will happen.
From Homeland (In)security to Home Depot.
For Selling *lots* of Duct tape, this man gets a cushy job
ATLANTA (Feb. 25) - Tom Ridge, the former secretary of the Department of Homeland Security and former governor of Pennsylvania, was named to The Home Depot's board of directors, the home improvement retailer announced on Thursday.
"Tom Ridge served his country with great distinction, and we are honored to have him join our board, where we expect that his unique global experience and perspective will make a profound contribution to our company and our shareholders," said Bob Nardelli, chairman, president and CEO.
As Homeland Security chief, Ridge pushed a a short-lived 2003 campaign urging Americans to have duct tape and plastic sheeting handy to protect themselves from a possible chemical and/or biological attack. The campaign was widely criticized as ineffective and unnecessary, but it prompted many people to buy the materials. Some retailers reported running out of the supplies.
Both Home Depot and rival Lowe's Cos. were among the stores that benefited from the "duct tape" campaign.
Business news site MarketWatch reported that Home Depot even set up special Homeland Security displays that pushed sales of the sticky substance and plastic along with batteries and bottled water.
Giving Military support to Iran & Iraq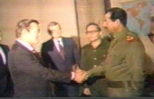 The war between Iran and Iraq was one of the great human tragedies of recent Middle Eastern history. Perhaps as many as a million people died, many more were wounded, and millions were made refugees. The resources wasted on the war exceeded what the entire Third World spent on public health in a decade.
The war began on September 22, 1980, when Iraqi troops launched a full-scale invasion of Iran. Prior to this date there had been subversion by each country inside the other and also major border clashes. Iraq hoped for a lightning victory against an internationally isolated neighbor in the throes of revolutionary upheaval. But despite Iraq's initial successes, the Iranians rallied and, using their much larger population, were able by mid-1982 to push the invaders out. In June 1982, the Iranians went over to the offensive, but Iraq, with a significant advantage in heavy weaponry, was able to prevent a decisive Iranian breakthrough. The guns finally fell silent on August 20, 1988.
Primary responsibility for the eight long years of bloodletting must rest with the governments of the two countries -- the ruthless military regime of Saddam Hussein in Iraq and the ruthless clerical regime of the Ayatollah Khomeini in Iran.
While publicly the Reagan administration was working to stop the world from supplying the Iran from getting weapons (as it turned out, to stop the competition, although it was not entirely successful, France and Israel, among others, were providing aid to Iran), it was secretly providing military aid to Iran. Soon this perverse relationship between the Ayatollah and Reagan was made public. This became known as the Iran/Contra scandal. (The Contras were armed terrorists fighting the elected government of Nicaragua, and proceeds from the sale of weapons to Iran went to aid the Contras, despite Congressional opposition of any U.S. funding of the Contras).
The United States also began helping Saddam Hussein in his war effort. This makes sense when we think of what U.S. war planners wanted, as expressed succinctly by Henry Kissinger: "I hope they kill each other". The goal of the United States government was working to get as many Iraqi and Iranian people killed as possible. Daniel Pipes wrote openly in 1987 about his idea to arm Saddam Hussein. (see the article here ). Daniel Pipes later became a key advisor to the Bush Jr. administration, an advocate of sending young Americans to kill and die fighting a regime he advocated earlier should to be armed at the expense of U.S. taxpayers. In August of 2003 Daniel Pipes was appointed by Bush Jr. to the United States Institute of Peace, a Congressionally sponsored think tank dedicated to "the peaceful resolution of international conflicts." We wish we were making this up.
See here for further documentation on the arming of Iraq.
A Mercenary's Fun
A memo produced by a private for-profit "Security firm", otherwise known as a mercenary organization doing "business" in Iraq, has echoed General Mattis' line about the fun of killing people. Emails seen by The Observer reveal that employees of Blackwater Security were recently sent a memo stating that 'actually it is "fun" to shoot some people.'
Dated 7 March and bearing the name of Blackwater's president, Gary Jackson, the electronic newsletter adds that certain people 'need to get creamed, and it's fun, meaning satisfying, to do the shooting of such folk.'
See more here. Blackwater is getting millions of dollars at U.S. taxpayers expense, as a contractor for the Pentagon.
The Smoking Gun
This document, widely talked about in Europe, but hardly mention on this side of the Atlantic, may very well lead to charges being brought against W. Bush. It will likely mean that Blair is in the last weeks as Prime Minister. See The Downing Street Memo.
A Congressman's Intimate Relationship
See update below!
We don't know the exact nature of Rep. Randy "Duke" Cunningham's relationship with his War Profiteer buddy Mitchell Wade, we do know for sure that U.S. taxpayers are getting screwed by such cozy relationships.

It seems like Wade found a way to slip the ranking Republican a cool $700,000 without getting caught. He bought Duke's house for that much more than it was worth.
Wade paid $1.7 million in November 2003 for the house in wealthy, seaside Del Mar, just north of San Diego. He put it back on the market soon after and eventually took a $700,000 loss when he resold it in October 2004. During that span, home prices in San Diego County rose an average of nearly 25 percent.
Meanwhile, Wade's little-known company, Washington, D.C.-based MZM Inc., was increasing its federal contracting business. In 2004, MZM tripled its revenue and nearly quadrupled its staff, according to the company's Web site.
Cunningham serves on the House Appropriations subcommittee that controls defense contracting dollars.
"At the time of the sale, I failed to adequately consider how this transaction might be perceived by others who don't know me," Cunningham said in his statement.
We perceive this relationship for what it is, an obscene abuse of power and the public trust.
The U.S. Attorney's Office in San Diego is investigating the house sale with help from the FBI, according to a law enforcement official who spoke on condition of anonymity because the investigation is ongoing.
Cunningham also contended he acted properly in living part time on Wade's boat, which is docked on the Potomac River in Washington.
Wade also had a "close" relationship with two other Congress people, Virgil Goode of Virginia and Katherine Harris of Florida (yes, that Katherine Harris!)
Update! EX-Congressman Cunningham has pleaded guilty to taking bribes. This no good low-life stole from taxpayers to give favors to his benefactors, who in turn gave him millions of dollars. He is now known as Federal Inmate 94405-198.
Favored Son, Pataki's son wants deferment
"With supreme guts and righteousness, President Bush went into Iraq," Gov. Pataki of New York told the Republican National Convention last August. The place erupted with applause. It was all very stirring.
Almost one year later, Pataki's son Teddy is, with supreme guts and righteousness, seeking a three-year law school deferment from the Marines, which last week commissioned the recent Yale grad as a second lieutenant.
The governor, who himself received a medical deferment during the Vietnam War because of poor eyesight, has said he hopes his son is granted the deferment. [You can bet on Teddy getting it, things tend to happen like that if your father is Governor.] Of course he does. No doubt all the parents of New York's nearly 100 war dead also wish their children could have gotten deferments. But they couldn't. They got killed instead.
During the run-up to the invasion, Pataki was one of Bush's biggest war whores in the Northeast, taking his pro-war stump speech on the road to warn New Yorkers about the imminent threat posed by Saddam Hussein. Since the governor's support for the war has yet to waver, it is more than a little annoying to hear him publicly wishing for his son's deferral.
If the cause in Iraq is even half as important as the governor has led us to believe, then surely his son is more needed in Fallujah than in some Cambridge lecture hall. If, on the other hand, the governor no longer considers the war important enough to justify his son's immediate contribution, then he should speak up as loudly as he did in the winter of 2003. Which is it, George?
From NY Press