Michael Blake
Since his separation from the military, Blake has been active with Iraq Veterans Against the War. Here is a story that was previously in PressConnects.com: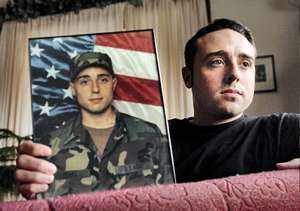 When Baghdad fell, Michael Blake was in a mess hall in Kuwait, watching history happen with twinges of excitement and trepidation.
He knew that in a few short weeks, he would be a part of world-changing events. What the Binghamton native couldn't anticipate was how those events would change him.
Blake, an Army specialist, had entered a relatively peaceful Iraq. The consensus was that his unit missed all the action and would be home in six months. That all changed two months later.
Mortar attacks near a tent Blake slept in regularly shook him out of his sleep. Insurgents shot rockets at a convoy he was in. A rocket passed in and out of a truck behind him without hurting anyone.
When Blake, now 22, returned to the United States, he took a step few take and even fewer achieve: He applied for conscientious objector status. His request was approved, and Blake was honorably discharged from the military on Feb. 3.
"I got a lot out of it, but I lost a lot," he said. "Any vestiges of innocence and youthfulness are gone. I feel old."
Blake is part of a small but growing contingent of enlisted men and women who have sought conscientious objector status since the beginning of Operation Iraqi Freedom in 2003. In 2001, 23 people in the Army requested the designation; 18 were approved. In 2004, 67 applied for objector status, and 33 were approved, according to the Army's public affairs department.
The Army has 494,000 active-duty men and women.
A potential conscientious objector must go through a long process of filling out paperwork, soliciting letters of support and answering questions that aim to gauge his views on war. Objectors must prove they are against all wars, rather than just specific conflicts, and must be sincere, according to military regulations.
A person requesting a conscientious objector designation can either ask to be placed in a noncombat job in the military or seek a complete discharge.
Blake requested a discharge. In his view, everybody in the military -- even people who are not handling weapons -- ultimately contributes to violence.
"I decided that I don't believe in the Army's mission," he said. "I don't believe in war anymore. I didn't see anything positive coming from what we did there."
Blake's family said his decision to leave the military was as natural as his decision to join.
When he was 18, he had surprised his family by announcing that he was enlisting in the Army after his graduation from Seton Catholic Central High School.
"I wanted to get out on my own and have my own adventure," Blake said, "be a man."
Recruiters pitched the experience as an adventure and never mentioned killing or war, he said. Blake said his view of the Army was colored by the 1990s, the decade of most of his youth when the U.S. military was mostly used for peacekeeping missions. He enlisted on July 12, 2001.
While Blake was in basic training, the terrorists attacked the World Trade Center and the Pentagon on Sept. 11, 2001.
Getting out
Before the Iraq war, Blake was stationed in Colorado. He remembers being suspicious of the conflict; he said it was launched under false pretenses and doubted claims that Iraq had weapons of mass destruction.
Despite his reservations, Blake knew he had a job to do. Military service was about executing orders, and a soldier's personal opinions were irrelevant, he said.
His company went to the Middle East in April 2003; after two weeks in Kuwait, they crossed into Iraq. He adjusted himself to a new way of thinking in the rough terrain of Iraq. In a war, it's your side versus the other side, and it's about protecting yourself and your friends.
"You don't think about America's interests in the region, or you don't think about weapons of mass destruction or even right or wrong," Blake said. "You think about staying alive."
Blake drove supply trucks for most of his time in Iraq, a job he believed would be safer than other jobs. Sporadically fired up, he quickly learned that there was no front line in Iraq.
"It was scary, but you're excited too," Blake said. "It's a rite of passage, especially for a soldier to go from (training) to the real thing. When it becomes real, you change forever."
Blake began to see more violence, and it was difficult to tell who the enemy was; a child approaching the troops could be working to gauge their position -- or worse. He saw the mental strain on soldiers who ended up having to kill people.
Blake said he feels blessed that he never had to kill anyone, although he's had to draw his weapon. Just knowing he is capable of killing is bad enough, he said.
Returning to Endicott, where he now lives, during a mid-tour break, he had time to process what he had seen and his views began to crystallize. He contacted Jack Gilroy, a local peace activist and Army veteran who has written two books on conscientious objectors, for advice on filing his papers. Gilroy said he and another local peace activist provided support to Blake.
Then Blake returned to Iraq for what he calls the low point of his service. It didn't seem that the troops were making any headway winning the hearts of the Iraqi people, he said.
The base where he stayed with 10,000 other troops was a frequent target of mortar fire. When he heard artillery fire, it was impossible to tell if it was incoming or outgoing.
"That was always a psychological victory for them because they could wake 10,000 soldiers up and have them run to the bunker," Blake said.
Blake returned to Colorado and worked on his conscientious objector papers, which he filed in July 2004. He received letters of support from family and friends. A chaplain and psychologist recommended his request be approved, as did his superior officer.
Two ranking brigade officials who reviewed his request recommended it be denied, suggesting his application was too perfect and that letters from friends and family had been coached. A brigade commander reviewing Blake's application doubted his sincerity.
"In Spc. Blake's excerpted journal entries, he consistently comments on the illegality of the war, the war being '... not worth it' and his desire to 'get away from the Army,' " Lt. Colonel James R. Rice wrote. "There is no indication in his journal entries that he is morally opposed to killing or war."
Rice recommended Blake's application be denied, but he was overruled. A final review board approved his application.
With his experience still burned into his mind, Blake said he has become more cynical. He plans to study elementary education at SUNY-Cortland in the fall and wants to teach history with the aim of instilling principles of peace in students' lives.
Blake said he feels obligated to tell the story of what he saw in Iraq and how he decided to leave the military.
"The people who bring about war have nothing personal to lose," he said. "It's all photographs or figures on a piece of paper to them."