Perry O' Brien, 82nd Airborne Division Army veteran of the Afghanistan war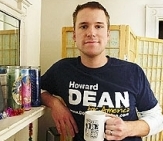 "I had trouble justifying what we were doing in Afghanistan."
Perry O'Brien is one of those who served in Afghanistan and then chose to break ranks after witnessing the carnage and stupidity of war. The story here is an excerpt from Portland Press Herald, from an article written by Justin Ellis.
Objection Sustained
Perry O'Brien, 22, has the kind of background typical of soldiers in today's military: He's from a good family, is full of ideas and wants to serve his country.
In another way he's not so typical. Three years into a four-year enlistment in the Army, after a tour of duty in Afghanistan, he said no. Perry O'Brien became a conscientious objector.
"I had trouble justifying what we were doing in Afghanistan," he said recently.
He's back after being honorably discharged from the Army. Now life has returned to some kind of normal for the Peaks Island native. He is one of a relatively small group of people to ever ask for - and receive - conscientious-objector status.
The simple history of O'Brien's life goes like this: Young boy grows up on the island, gets home-schooled for several years, meets future fiancée and enters the University of Southern Maine to study philosophy. But in 2001, things got complicated. He wanted a change.
So he enlisted in the Army to become a medic. It was two weeks before Sept. 11th.
It's important to remember that life in the Army was much different prior to the terrorist attacks. O'Brien never believed he would be near the front lines of any combat.
"I wanted to expand myself in the most radical way possible," he said with a pause. "I think it was a naive plan . . . an instinctual decision."
Over the next two years he would cycle between basic training at Fort Benning, Ga., to medic training in Texas, until he was stationed with a unit in 2002. In January 2003 he was deployed to Afghanistan as a member of the 82nd Airborne Division.
Working in an old airport in the city of Kandahar, southwest of the Afghan capital, Kabul, O'Brien spent his days treating everyday illnesses as well as trauma injuries among Afghan and U.S. troops. The unit also traveled into rural areas, where they set up shop in the countryside to give villagers medicine and do simple dental work.
"At the time it was like the Peace Corps with guns," he said. "That's what it felt like."
But soon his questions began coming.
For every raid on suspect farmers and Taliban sympathizers, every bombing campaign, it seemed the Army had to try even harder to build better friendships with Afghans, he said. They would hold more free clinics and give away boxes and boxes of school books and crayons to kids.
Even O'Brien's responsibilities as a medic began to take a different perspective. "You didn't focus on the meaning, you just did the job," he said. "You get into a mode of doing your job, when working on people felt like working on machines."
It didn't help that he was receiving patients each day, some children, who may have been innocent victims caught in the middle of fighting.
And just like a small crack in an ice pond, his questions began to grow. A world of black and white started to bleed gray.
For answers he started to talk with the unit's chaplain, and fell back on philosophy. He read and re-read books on Eastern religions, studied ideas on the value of life and taking life.
O'Brien knew that being a member of the Army would be difficult both mentally and physically, but he never anticipated it would make him question his fundamental values.
His unit returned to the states in June, where O'Brien took on the difficult task of getting conscientious-objector status from the Army.
There are two types of conscientious-objector designations: one where you are removed from combat and put in another specialty field; or, as in O'Brien's case, discharged from the service entirely.
In 2001 there were nine approved. Last year there were 31 approved and 29 denied.
In O'Brien's case the process to took five months. He returned home Nov. 22, just in time for Thanksgiving. O'Brien said he feels fortunate, if not lucky, to have been granted conscientious-objector status.
When it comes down to it, everyone has questions, O'Brien says. He knows not everyone will come to the same conclusions he did. He also knows that some people will disagree with his decision to leave the Army, and that's something he respects.
Juggling conflicting ideas about war, diplomacy and peace while fighting overseas is not easy, to say the least. He knows he is lucky to have been in war, survived and returned home in one piece.
Now he wants to work with groups like Veterans for Peace and the Maine People's Alliance to help those in or outside the Army who may be in a situation like his. "I don't just want to sit around and have conversations about these things," he said.
He plans to head back to college in the fall, studying political science and philosophy at Cornell University in New York.
In the meantime, adjusting to life back home hasn't been too hard. For all his adventures and experience, one thing still makes him like many other 22-year-olds in Maine.
"I'm looking for a job," he said.
Perry and other friends have launched a website to assist other GI's obtain discharge as Conscientious Objectors. See Peace Out.
Back to Full List of Resisters
Sergeant Kevin Benderman, U.S. Army
Though Benderman has been found not guilty of Desertion, a very serious charge, he was found guilty of a lesser charge and sentenced to 15 months! The man who prosecuted Benderman is the same one who prosecuted Mejia.
Benderman was released in August, 2006, after serving nearly 13 months. See this article.
From Information Clearing House: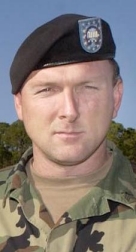 U.S. Army Sergeant Refuses Re-Deployment To Iraq
By Robert S. Finnegan, Managing Editor, Southeast Asia News
01/05/05 "ICH" -- Ft. Stewart Georgia, "Rock of the Marne" -- This morning Sergeant Kevin Benderman, U.S. Army awoke to face what will probably be one of the most important decisions of his life: whether or not to accept or refuse re-deployment to Iraq to participate in a war that has been increasingly questioned by the American public, and the world. A war that has been ruled illegal by United Nations Secretary General Kofi Annan and has come under increasing fire from both Republicans and Democrats alike who share the same concerns as Sergeant Benderman and the U.N. Secretary General.
While conscious of the fact that this single action could be the opening salvo of a war pitting an increasingly disgruntled military against the Bush administration over issues such as "stop-loss," questionable operations, equipment failures and casualties in Iraq and the possibility of facing severe penalties under the Uniform Code of Military Justice for his actions, Benderman remains firm in his resolve to do something about it, and to do it now.
"I have both a professional and a moral obligation to call into question why we are still in Iraq after accomplishing the mission – in President Bush's words – of deposing Saddam, and why U.S. military personnel are increasingly killing non-combatants. On my last deployment in Iraq elements of my unit were instructed by a Captain to fire on children throwing rocks at us." This is not what he signed up for, Benderman said.
Both Benderman, 40, and his wife Monica realize the possible ramifications of his stand.
"We have no other choice," Benderman's wife said. "This is what we have to do, I have always told my children that the right thing is the most important thing, and doing it is the only thing that allows you to keep your integrity, regardless of the consequences." Their actions are only reflecting their core beliefs she said.
Benderman's feelings on the war run deep, and were primarily influenced by his experiences during a previous deployment to Iraq from March through September 2003. "The people that we are fighting now, are for the most part people like you and me, people that are defending themselves against a superior military force and fighting to keep that which is rightfully theirs" he said. Benderman also stated that the Iraqi people have the right to choose their own form of government, "just like we did in America after the revolution."
He says that he is proud of his service to his country, but takes no pride in what is happening in Iraq now. In addition, Benderman states that while he signed a contract with the military to 'defend the Constitution of the United States from all enemies, foreign and domestic,' he says now that "I am ashamed to be associated with this mess, and I certainly did not join the Army to kill women, children and old men. I just don't see how these innocent people could be a threat to the constitution of the United States: an American soldier should not be ashamed of what they do."
Benderman has a flawless military record and a list of meritorious awards.
As for his combat experience in Iraq, Benderman says that he believes that those who have not experienced war are those who beat the war drums the loudest. "Has the video game mentality so pervaded our country that this is how we base our decisions on war? Some of the younger guys were totally out of touch with reality in that respect, and I had to repeatedly tell them to keep their heads down because there are no restart buttons on reality," he said.
Benderman sincerely believes that the U.S. has lost its way in Iraq and that the best way to avoid creating more terrorists in the world at this time is to bring our soldiers home from Iraq and to let Iraqis sort out without interference the type of government they prefer. "We did it for ourselves during the American Revolution and now it is time to let the people of Iraq do it for themselves," he said.
Sergeant Benderman is scheduled to undergo a psychiatric evaluation at Ft. Stewart Georgia this afternoon after submitting a request for Conscientious Objector Status from the Army.
U.S. Army Public Affairs Officer Lt. Colonel Kent declined comment for this article citing privacy, and adding that "typically, these are administrative actions we cannot comment on."
Since that article was written, Kevin has refused re-deployment, and faces court-martial. He needs your help.
Homepage of the Kevin Benderman Defense Committee (Please check it out)
Tax Deductible contributions for his defense fund (on-line or through the mail) may be made for Kevin through the Traprock Peace Center. See the website.
LA Times Story here.
Write to Kevin and Monica Benderman:
Kevin and Monica Benderman
P.O. Box 2322
Hinesville, GA 31310
Email: mdawnb@coastalnow.net
The war is over, at least as far as Darrell Anderson is concerned. Anderson, a 22-year-old GI from Lexington, Kentucky, deserted a week ago, heading across the US' loosely controlled border with Canada. When his fellow soldiers in the First US Tank Division, stationed in Hessen, Germany, ship out to Iraq for their second tour of duty, he'll be in Canada.
Anderson spent seven months in Iraq last year as a part of a unit assigned the dangerous mission of guarding police stations in Baghdad. He was wounded by grenade shrapnel during an insurgent attack, was awarded the Purple Heart and allowed to spend Christmas at home in the United States. But instead of returning to duty, Anderson fled to Toronto.
Now he's a deserter and a warrant has been issued for his arrest. If apprehended, he faces several years in a US military prison. In justifying his desertion, Anderson says: "I can't go back to this war. I don't want to kill innocent people." He talks about the constant pressure soldiers face to make decisions in the daily grind of war. Once, when a car came too close to their Baghdad checkpoint, his commanding officer ordered him to shoot, even though Anderson could only make out a man and children in the vehicle. The soldier refused. "Next time you shoot," his commanding officer barked.
On another occasion, the safety on his automatic weapon was all that prevented Anderson from losing control. "I was holding a heavily injured comrade in my arms, there was blood all over the place, and Iraqis were cheering all around us," he recalls. "I was so furious that all I wanted to do was kill someone, anyone."
Anderson has now applied for political asylum in Canada. His attorney, Jeffry House, was once one of the 50,000 draft dodgers who fled to Canada to avoid serving in the Vietnam War. Deserters who are now fleeing to Canada to avoid the Iraq war have reawakened memories of an exodus that took place more than thirty years ago. House says: "Every day I get calls from at least two soldiers looking for a way out."
The larger article is very worthwhile to read, includes the problems Bush will face in pursuing his present strategy. Please read the rest in Der Spiegel
Shortly past Noon on Friday, October 6, Iraq war veteran and war resister Darrell Anderson was released from Ft. Knox after turning himself in to military custody on October 3. According to his attorney, Jim Finnerty, Darrell will receive an "other than honorable" discharge without facing court martial. He expects discharge papers to be mailed to Anderson within days.

Before turning himself in Darrell held a press conference at the Colvin Community Center in Radcliffe, KY. "I feel that by resisting I made up for the things I did in Iraq," he said. "I feel I made up for the sins I committed in this war." Shortly after, surrounded by his wife, mother and step-father, military veterans, and representatives of both national and local Kentucky peace groups Darrell Anderson turned himself in to military police at Ft. Knox, KY. In spite of the risk of prosecution, Anderson decided that he wanted to return to home and family. View video of press conference
Driven in a car by his mother, Anita Dennis, Darrell Anderson crossed back into the U.S. from Canada on September 30, over the Peace Bridge, following a press conference in Ft. Erie, Canada where he told supporters, "I believed it was my human right to choose not to kill innocent people."

Darrell Anderson was deployed to Iraq with the Army's 1st Armoured Division in the spring of 2004. Darrell served most of his time in Baghdad where he was wounded by a roadside bomb after serving for 7 months. Facing the possibility of a second deployment to Iraq, Darrells conscience kept him from returning to the military. After witnessing the abuse and killing of Iraqi civilians and being ordered to fire on an automobile containing Iraqi civilians, Anderson concluded that the war is wrong. He fled to Canada rather than face the possibility of returning to Iraq.
Anderson will now be seeking treatment for post-traumatic stress at a facility in Tennessee. Since being in combat, Anderson said that he has suffered panic attacks, nightmares, and other symptoms of post-traumatic stress.
March 27 Update: Darrell's fight is not yet over. He still suffers from PTSD and other health issues related to his service in Iraq. He needs and deserves VA benefits that his "other than honorable" prevent him from obtaining. Darrell still has $4,000 in oustanding legal fees that he needs to pay before he can fight for his discharge upgrade to get VA benefits. Please help this Iraq combat veteran and courageous resister get the support and care he deserves.