Abdul Henderson, Lance Corporal, U.S. Marines

See Update Abdul Henderson has not attempted to separate himself from the U.S. Marines, but has publicly stated in Michael Moore's film Fahrenheit 9/11 that he will would refuse to return to fight in Iraq, where he has already served a 2 month tour of duty. He saw combat and won the Marine Corps Achievement Medal after trying to rescue British soldiers who were trapped in an overturned vehicle.
The Marine Corps is conducting a preliminary inquiry into Henderson's appearance in Fahrenheit 9/11. Marine spokesman Capt. Patrick Kerr says authorities need to decide whether any action is warranted. "He made it very clear that he would not follow orders," Kerr says. "We're trying to determine what, if anything, he said or did was wrong" and what the punishment might be.
Henderson faces harsher penalties if he fails to report for a second Iraq tour. "Technically, he'd be a deserter," Kerr says. Punishment could range from an administrative discharge to a court-martial, which could land Henderson in a military prison for up to a year, Kerr says.
December 2004 speech made at Ft. Collins, see more here
Apparently, Henderson did return to Iraq. He reached the rank of Corporal before being discharged from the military due to an injury sustained during during his stay in Iraq.
Henderson currently works as the District Representative for Veteran's Affairs for Congresswoman Diane E. Watson where he is responsible for advocating for veterans in the 33rd District in California, ensuring that they receive the care, support, recognition and dignity they deserve for their service.
Back to Full List of Resisters
Michael Blake, U.S. Army Specialist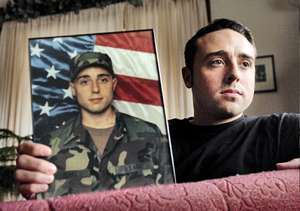 Excerpt from PressConnects.com:
When Baghdad fell, Michael Blake was in a mess hall in Kuwait, watching history happen with twinges of excitement and trepidation.
He knew that in a few short weeks, he would be a part of world-changing events. What the Binghamton native couldn't anticipate was how those events would change him.
Blake, an Army specialist, had entered a relatively peaceful Iraq. The consensus was that his unit missed all the action and would be home in six months. That all changed two months later.
Mortar attacks near a tent Blake slept in regularly shook him out of his sleep. Insurgents shot rockets at a convoy he was in. A rocket passed in and out of a truck behind him without hurting anyone.
When Blake, now 22, returned to the United States, he took a step few take and even fewer achieve: He applied for conscientious objector status. His request was approved, and Blake was honorably discharged from the military on Feb. 3.
"I got a lot out of it, but I lost a lot," he said. "Any vestiges of innocence and youthfulness are gone. I feel old."
Blake is part of a small but growing contingent of enlisted men and women who have sought conscientious objector status since the beginning of Operation Iraqi Freedom in 2003. In 2001, 23 people in the Army requested the designation; 18 were approved. In 2004, 67 applied for objector status, and 33 were approved, according to the Army's public affairs department.
The Army has 494,000 active-duty men and women.
A potential conscientious objector must go through a long process of filling out paperwork, soliciting letters of support and answering questions that aim to gauge his views on war. Objectors must prove they are against all wars, rather than just specific conflicts, and must be sincere, according to military regulations.
A person requesting a conscientious objector designation can either ask to be placed in a noncombat job in the military or seek a complete discharge.
Blake requested a discharge. In his view, everybody in the military -- even people who are not handling weapons -- ultimately contributes to violence.
"I decided that I don't believe in the Army's mission," he said. "I don't believe in war anymore. I didn't see anything positive coming from what we did there."
Blake's family said his decision to leave the military was as natural as his decision to join.
When he was 18, he had surprised his family by announcing that he was enlisting in the Army after his graduation from Seton Catholic Central High School.
"I wanted to get out on my own and have my own adventure," Blake said, "be a man."
Recruiters pitched the experience as an adventure and never mentioned killing or war, he said. Blake said his view of the Army was colored by the 1990s, the decade of most of his youth when the U.S. military was mostly used for peacekeeping missions. He enlisted on July 12, 2001.
While Blake was in basic training, the terrorists attacked the World Trade Center and the Pentagon on Sept. 11, 2001.
Getting out
Before the Iraq war, Blake was stationed in Colorado. He remembers being suspicious of the conflict; he said it was launched under false pretenses and doubted claims that Iraq had weapons of mass destruction.
Despite his reservations, Blake knew he had a job to do. Military service was about executing orders, and a soldier's personal opinions were irrelevant, he said.
His company went to the Middle East in April 2003; after two weeks in Kuwait, they crossed into Iraq. He adjusted himself to a new way of thinking in the rough terrain of Iraq. In a war, it's your side versus the other side, and it's about protecting yourself and your friends.
"You don't think about America's interests in the region, or you don't think about weapons of mass destruction or even right or wrong," Blake said. "You think about staying alive."
Blake drove supply trucks for most of his time in Iraq, a job he believed would be safer than other jobs. Sporadically fired up, he quickly learned that there was no front line in Iraq.
"It was scary, but you're excited too," Blake said. "It's a rite of passage, especially for a soldier to go from (training) to the real thing. When it becomes real, you change forever."
Blake began to see more violence, and it was difficult to tell who the enemy was; a child approaching the troops could be working to gauge their position -- or worse. He saw the mental strain on soldiers who ended up having to kill people.
Blake said he feels blessed that he never had to kill anyone, although he's had to draw his weapon. Just knowing he is capable of killing is bad enough, he said.
Returning to Endicott, where he now lives, during a midtour break, he had time to process what he had seen and his views began to crystallize. He contacted Jack Gilroy, a local peace activist and Army veteran who has written two books on conscientious objectors, for advice on filing his papers. Gilroy said he and another local peace activist provided support to Blake.
Then Blake returned to Iraq for what he calls the low point of his service. It didn't seem that the troops were making any headway winning the hearts of the Iraqi people, he said.
The base where he stayed with 10,000 other troops was a frequent target of mortar fire. When he heard artillery fire, it was impossible to tell if it was incoming or outgoing.
"That was always a psychological victory for them because they could wake 10,000 soldiers up and have them run to the bunker," Blake said.
Blake returned to Colorado and worked on his conscientious objector papers, which he filed in July 2004. He received letters of support from family and friends. A chaplain and psychologist recommended his request be approved, as did his superior officer.
Two ranking brigade officials who reviewed his request recommended it be denied, suggesting his application was too perfect and that letters from friends and family had been coached. A brigade commander reviewing Blake's application doubted his sincerity.
"In Spc. Blake's excerpted journal entries, he consistently comments on the illegality of the war, the war being '... not worth it' and his desire to 'get away from the Army,' " Lt. Colonel James R. Rice wrote. "There is no indication in his journal entries that he is morally opposed to killing or war."
Rice recommended Blake's application be denied, but he was overruled. A final review board approved his application.
With his experience still burned into his mind, Blake said he has become more cynical. He plans to study elementary education at SUNY-Cortland in the fall and wants to teach history with the aim of instilling principles of peace in students' lives.
Blake said he feels obligated to tell the story of what he saw in Iraq and how he decided to leave the military.
"The people who bring about war have nothing personal to lose," he said. "It's all photographs or figures on a piece of paper to them."
Back to Full List of Resisters
Ryan Johnson, U.S. Army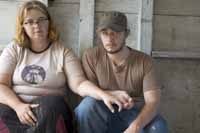 Ryan Johnson, of Visalia, California (farming area in Central California, where folks like the Joads struggled during the depression, and many still struggle today) enlisted in the army in November of 2003, and went to basic training in March 2004. With few job options, Ryan, age 22, talked to a military recruiter. Recruiters often make promises they cannot keep. He was led to believe that he would be given a non-combat job. That he would get $40,000 for college.
Ryan at first believed in the mission in Iraq. However, he started asking questions of those he met who had returned from combat there. What he heard was horrifying. He also began to question the legitimacy of the war. He ended up attending the court-martial of Pablo Paredes, and there met with Pablo, Camilo Mejia, and Aidan Delgado. He came to firmly believe it would not be right for him to fight in this immoral war.
Early in June 2005, Ryan Johnson and his wife Jennifer drove across the border to Canada. He decided to go to Canada, rather than go AWOL and stay in the U.S. and risk arrest. He felt this was the best way to tell the world that the war "not worth it and that this war is illegal". In Canada he found a network of anti-war people who are supporting Ryan and his wife start their new life.
More on Ryan and his story, see the transcript from Democracy Now
Read an article about Ryan and listen to Ryan and that of a few others who have fled to Canada
Back to Full List of Resisters
Ivan Brobeck, U.S. Marines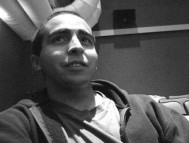 See Update
Ivan Brobeck served 7 months in Iraq with the U.S. marines before deserting and coming to Canada in April 2005.
As Ivan told Now Magazine in Toronto, somewhere between the three-hour firefights in Fallujah and the missions to hand out candies to Iraqi children, the native of Arlington, Virginia realized he had to get out. "A lot of marines feel that way,'' he said. "A majority know this war is pointless. But orders are orders.''
Here in his own words is what led him to refuse to fight this war:
I was in the Marines. I joined in June 2003, and after boot camp in March of 2004 I was sent directly to Iraq. This wasn't at all unsettling to me. You see, I went into the Army because I wanted to fight the bad guys. In school during history classes I learned that the Army and the Marines had done all these wonderful things, and it all sounded so patriotic and I wanted to do the same. I wanted to fight for freedom.
I didn't care, and I still don't care, if I died fighting for a good and noble cause, which is what I wanted to do.
In Iraq, I found myself being the problem instead of the solution. A problem in a normal town, in the life of normal people, like the people here in Toronto, trying to go about their life and risking getting shot at by me. Innocent people getting killed for misunderstandings, and for even more trivial things. I found myself in situations with my partners where we had to shoot at speeding cars, at people that probably were just trying to get out of our way.
All these insurgents, as they call them, they're not. They're people who have nothing left. There was this guy who was mad at us because we had killed his family. Wife, children, everybody but him had been killed. He was seeking some kind of retribution. That is not an insurgent, that's a desperate man.
My ethnic background is Salvadoran; my mom is from El Salvador. So the fight against tyranny is something that is dear to me, considering the history of El Salvador. I believed that the war in Iraq was a just war, and it was not. Now, before I get involved again, I really have to see somebody overcoming my country with weapons in hand.
Brobeck returned to the United States on election day to ask President Bush and Congress to bring the troops home now. On December 5, Ivan Brobeck plead guilty to "Unauthorized Absence" and "Missing Movement" at his court martial at Quantico in Virginia. He was sentenced to a military brig for a period of 8 months. He was released in February. See more at Courage to Resist.
Back to Full List of Resisters
Jessica Faustner, Recruited under false pretense, National Guard
Jessica Faustner, the 2005 Northampton, Pennsylvania Area High School graduate who says she was enlisted through deceptive practices by a National Guard recruiter, didn't show up for her entry training Wednesday and now is considered absent without leave, or AWOL.
National Guard officials said because Faustner did not report as ordered, the Guard will get a warrant through a district judge to force her to go to training at Fort Indiantown Gap, Lebanon County.
Faustner, 18, had been attending the monthly drill weekends at the Allentown National Guard Armory but stopped in April on the advice of her lawyer, John Roberts, according to her mother, Joan Koberly of Bath.
She said Roberts also advised her daughter not to apply for a hardship withdrawal because it would be admitting her enlistment is valid.
Nationwide, the armed forces has struggled with increasing numbers of deserters. It has also been plagued by documented cases of recruiter fraud. On May 20, 2005, the U.S. Army ordered a "stand down" to review ethical recruiting practices, to counter-act media reports of fraud and abuse. Recruiters were filmed telling lies to potential recruits, encouraging lying on entrance forms, giving advice on getting fake high school diplomas.
After 30 days of being AWOL, a soldier is classified as a deserter.
The Pentagon estimates since the start of the war in Iraq, more than 5,500 soldiers have deserted.
Some go AWOL to take care of family matters, others because they tire of the military or do not want to go into combat.
Faustner went public with her accusations of misleading recruitment practices at a May 9 meeting of the Northampton Area School Board.
Prior to 2001, the majority who deserted were released with an other-than-honorable discharge, but after the Sept. 11 terrorist attacks, the Army enacted a more stringent policy that returned deserters to their units.
Since the Army doesn't have the manpower to chase down deserters, they can escape prosecution unless they are stopped by police for some other offense such as running a red light.
Faustner, who admits she signed the enlistment form, alleges the recruiter, Sgt. Jeffrey Todd Malloch, told her she would be going to nursing school and used other deceptive practices to get her and her parents to sign.
Cleaver said the Guard took Faustner's charges ''very seriously'' and a staff judge advocate investigated, but ''none of the allegations could be substantiated.''
Cleaver called Malloch one of the Guard's ''top performers'' who enlists seven to eight recruits a month, while most recruiters only get two or three.
National Guard units serve part-time under the governor, unless called to active duty.
Cleaver said the Guard has been struggling to meet enlistment goals, as has the U.S. Army, which in May held a first-ever one-day halt in recruiting activities — or stand-down — to address complaints about aggressive tactics.
The National Guard did not participate in the stand-down, Cleaver said.
He said the Pennsylvania Guard has been falling a third short in its goal of enlisting 300 new recruits a month needed to field 16,000 soldiers. He said the Guard currently numbers around 15,000.
Cleaver said the Guard has increased the number of recruiters by more than 10 percent to address the shortage.
He said encouraging young people to enlist has gotten harder since most will have to serve on active duty. Also, he said, older soldiers are leaving the service after a tour of active duty.
Cleaver said if all else fails the Guard will seek a discharge for Faustner.
Since Sept. 11, 2001, he said, 13,272 of the state's 20,000 National Guard soldiers have been deployed.
National Guard and Reserve soldiers now make up more than 40 percent of the 138,000 U.S. troops in Iraq.
Cleaver said he finds it hard to believe Faustner didn't realize she would serve on active duty if she enlisted.
''If you join the Guard you're going to be deployed,'' he said. ''Almost everyone is deployed.''
Update: After issuing a warrant for her arrest and return to military custody
& control, the Army National Guard finally relented and released this young recruit from her contract. (Otherwise, it would surely have been challenged in court, with great embarrassment to the Guard.)
Lesson: Don't sign the contract.
Back to Full List of Resisters
Spc. Dale Bertell, U.S. Army
This is a first that I know of, a spouse has been charged (charges later were dropped) in the case of a military resister. A felony charge was filed against the wife of a man who fled the military rather than go to Iraq where he had done a previous tour of duty. Amy was charged with "enticing, abetting a deserter". Given the moral bankruptcy of this war, I believe this is a badge of honor. Amy Bartell was charged under this Federal Law. Amy, mother of four children, (the military, in its compassion, has not charged any of the children) was faced with a maximum term of three years.
Free the Dale Bartell!
July 22 Update: According to Amy's attorney Bill Durland, the military wrongfully charged a civilian wife of a AWOL soldier with the crime of "enticing, abetting a deserter" (see link). This may be the first time the statute has been used, and it was not done properly (military police issued the warrant without a U.S. Attorney's approval, but as you can see below, Ft Carson plays fast and loose with the law).
July 27th The case against Amy Bartell has been dismissed.
Read the following ...
Then, check out the story about Ft. Carson, the military base that banned the Denver Post. Is Ft. Carson a U.S. military base, or a dangerous religious cult? You decide.
Story from the Colorado Springs Gazette
Ft. Carson GI convicted of dodging duty
By DENNIS HUSPENI
A Fort Carson soldier has been convicted of intent to avoid hazardous duty — what amounts to desertion — and is serving time in a military prison after trying to declare himself a conscientious objector.
Army officials also have filed a felony charge against his wife, alleging she was "enticing, abetting a deserter," her attorney said.
Spc. Dale Bartell, assigned to the 3rd Armored Cavalry Regiment, didn't always oppose war. He enlisted almost three years ago and served a tour in Iraq.
But Bartell and his wife, Amy Bartell, joined a Mennonite church, and their philosophies changed, she said Wednesday outside a U.S. District courtroom in Colorado Springs where she was scheduled for a hearing.
"He's changed since joining. If he knew the teachings then that we know now, he never would have joined," Amy Bartell said. "He knew there was going to be consequences for his stance.
"I didn't know I'd get into trouble for being a housewife."
As his unit was preparing to go back to Iraq, Bartell's commanding officers would not help him — and even hindered him — in filing the paperwork to become a conscientious objector, said Amy Bartell's attorney, Bill Durland.
"He knew that once they got him over there, they would have their way," Amy Bartell said, noting officers offered to let him use "non-lethal" ammunition in Iraq. "He would have to ignore his religious convictions. What choice did he have? He went AWOL."
Soldiers have filed about 150 conscientious-objector applications since 2002, the Los Angeles Times reported [Story link] recently using Pentagon figures [The actual number is probably much higher. Soldiers fill these long forms out and then it sits on his/her commanding officers desk for months at a time. --Tom] . About 71 of those applications were approved. During the Vietnam War — where many soldiers were drafted — there were some 17,000 applications from active-duty soldiers, according to the Times report.
Bartell, who has been transferred to a military prison in Fort Sill, Okla., was unavailable for comment Wednesday.
The first time Bartell went absent without leave was from March 7 through April 8, according to Durland. During that time, Bartell never left Fort Carson, where the couple lived on base with their four children, ages 1 to 11.
Amy Bartell received a letter saying all pay and benefits were being cut off.
The second time Bartell went AWOL was on the day he thought his unit was to ship out, April 17. He met with a military defense attorney May 12 and turned himself in.
By that time, the couple had moved to the Cañon City area to be near their church, the Skyline Mennonite Church. Military police showed up in early May and served Amy Bartell with the felony charge of "enticing, abetting a deserter," Durland said.
That charge could result in punishment of up to three years in prison, Durland said.
Prosecutors charged Spc. Bartell with "intent to avoid hazardous duty," which is basically the same as desertion, Durland said. On advice from his military attorney, Bartell pleaded guilty to the charge in hopes his conscientious objector position could mitigate a harsh prison sentence.
"He pleaded guilty because he accepted responsibility for what he had done," Bartell said. "It was his only option. He was not going to say 'no' to God."
Bartell's military attorney told a Fort Carson public affairs officer Wednesday she would have to get permission from her client before answering any questions.
The spokesman for the U.S. Attorney's Office in Denver declined comment on the case Wednesday.
On July 12, Spc. Bartell was sentenced to four months in prison, after which he will be dishonorably discharged.
Rev. Loren Miller, of Skyline Mennonite, said the church is for pacifist Christians. Church officials and volunteers have helped the Bartells, and were at the hearing Wednesday — which was postponed until Aug. 17.
"We are harmless, peace-loving people," Miller said, noting Mennonites take the Scriptures literally.
Amy Bartell is worried about the felony charge she faces. And she's worried about her husband.
"He's going through a lot," she said. "It does affect him. He's sitting in prison knowing I'm getting into trouble for what we believe."
Ft. Carson Bans the Denver Post
The same military base that attacks the wife of a soldier whose religious beliefs forbid him from participating in combat was in the news last December, when it temporarily banned the Denver Post from covering its activities, after it printed an article it did not like. Cutting ties to the outside world is the modus operandi of religious cults and/or dictatorships. Read two stories below.
From Denver Post
Article Published: Thursday, December 09, 2004

The base is refusing to give the paper information because of a Sunday
front-page article on military medical holds.

By Eileen Kelley

Fort Carson -The Army is denying The Denver Post access to Fort Carson and to information on military activities in the wake of a Sunday article in The Post on military medical holds. "We have temporarily suspended relations with The Denver Post as a direct result of Fort Carson not being given fair and balanced treatment in a story that appeared on Dec. 5, 2004," Lt. Col. David Johnson, the chief public affairs officer at the base, said Wednesday evening.

The front-page article examined claims from mentally and physically ill National Guard and Army Reserve members who say they are being denied access to quality care and are being shoved out of the military without disability pay. Congress has been scrutinizing medical holds at bases across the country.

"All of those involved with the med-hold piece which ran yesterday are extremely disappointed with the outcome," Kim Tisor, a Fort Carson public affairs officer, wrote in a letter to reporters Monday. "Perhaps we would have been better off not commenting - it certainly would have saved us a lot of time."

Denver Post Editor Greg Moore said the base's public affairs staff was misguided in their actions.

"They are singling us out simply because they didn't like our story," he said. "Other newspapers and media organizations have reported on the issue. Our story was thorough, and balanced the concerns of soldiers with substantial response from the military, including from some officers who acknowledged problems with the program.

"It's our job to investigate issues like these and explain them to our readers, many of whom have family members serving in the military," Moore added. "We hope Fort Carson officials reconsider their ban of The Denver Post. If they don't, we will appeal to senior military officers at Fort Carson and in Washington, and through any other legal or congressional channels that are available to us."

Any commander has the authority to control access to his installation or unit, but a specific news organization can be banned from a base only in accordance with an Army regulation that provides for due process, according to a senior Army official who asked not to be named for fear of retribution.

Johnson said the paper has been dropped from an e-mail list that distributes invitations to cover events and official statements.

A Post reporter was told Tuesday she could not attend a formal deployment ceremony Wednesday even though other media members were invited.

Johnson said the lack of access is not an official ban, but he later said that all Denver Post reporters and editors were - for the time being - no longer welcome at Fort Carson.

Also last week, The Denver Post obtained an injunction to stop an investigative hearing that had been closed to the public for three Fort Carson soldiers charged with murdering an Iraqi general.

December 10, 2004 Associated Press:
DENVER Fort Carson has lifted its restrictions on reporters from The Denver Post, a day after a spokesman said the newspaper wouldn't be allowed to cover events at the base because officials were upset by a story the newspaper had published.
The front-page Sunday story focused on mentally and physically ill National Guard and Army Reserve members who say they have been denied quality care and are being pushed out of the service without disability pay.
Lt. Col. David Johnson, chief of public affairs at Fort Carson, spoke with Post editor Greg Moore on Thursday and Johnson agreed to lift the ban.
We are pleased that the ill-advised ban on The Post is no longer, Moore said. We continue to believe our story fairly and accurately addressed a situation that has attracted the Armys attention about the quality of medical treatment for its soldiers.
The Post fought the Army's decision to close a hearing for three Fort Carson soldiers accused of murdering an Iraqi general. The newspaper won an injunction to stop the hearing while the Army appeals court reviews the closure.
Back to Full List of Resisters
Story by Jack Dalton Check out Jack Dalton's blog.
Jonathan was a young man in high school when the Marine recruiter approached him about joining the Marines "Delayed Entry" program. That's where a young person under-age and still in school, with parents permission, can sign on the bottom line, supposedly receive an enlistment bonus, then once out of high school straight off to Boot Camp. That's pretty much how it happened with Jonathan; who is now at the Marine Corps Base, Camp Geiger, N.C. This is the very same base Trent Helmkamp [Trent is now discharged] was at, and where he underwent an outrageous ten month ordeal after submitting paperwork as a Conscientious Objector. Not only is Jonathan at the very same base, but he is also in the very same Separation Barracks and under the very same command as was Trent.
After 8 months, the conscientious objector application Jonathan submitted according to all military law, rules and regulations, Jonathans command has not even begun to process his application. It would seem that today's Army does not think its command structure has to follow its own laws, rules and regulations when it comes to those who stand as conscientious objectors. In fact just two weeks ago, Jonathan's new Commanding Officer told Jonathan, "you might as well start training as your C.O. application is never going to be approved."
The military is really slick, especially the Marine Corps (that's the branch of military I was in) in how they not only approach these kids in school, but in who they have approach them and their parents. The "how and who" in Jonathan's case really points out just how "slick" military recruiters are. Jonathan's parents immigrated to this country from Ecuador. Jonathan's mother does not speak English and his father speaks broken English. Jonathan is first generation born in this country.
When Jonathan's parents answered the knock at their front door, there in the doorway stood a tall, smartly dressed Marine in full dress uniform—a most impressive sight. There was no language barrier as the Marine recruiter that was sent to convince Jonathan's parents to give their permission for Jonathan to enlist in the Delayed Entry program also had immigrated to this country from Ecuador.
This fellow "countryman" the Marine Corps sent to hustle Jonathan and his parents did a really good job at it. After the recruiter made a lot of promises and guarantees that, to paraphrase, "I will be there to watch over him; those of us from Ecuador after all have to stick together." This recruiter then went on to tell Jonathan and his parents, "as an electrician, you will not be going into combat or even be training for combat." Jonathan and his parents signed the Delayed Entry papers behind these statements of this recruiter.
Jonathan and his parents had just been conned and hustled by one of the Marine Corps so-called "finest." At the same time this Marine Corps recruiter had just committed the Corps to a verbal contract in terms of what Jonathan would and would not be doing. And, yes, I know that verbal contracts don't hold water with the military. Hell, today, written contracts don't hold water in today's military from what I have been seeing. But Jonathan and his parents didn't know that. They believed what the recruiter told them, which under the circumstances is understandable.
Jonathan was now in the Marines Delayed Entry program. According to Jonathan, "I joined the Marines because of my recruiter's good way of talking." But then Jonathan told me, "Before leaving for Boot Camp I got this feeling like I didn't know what I was getting myself into. I told my recruiter I didn't want to go no more, that I think it's not for me." Rather than take the chance of a bad fitness report that would prevent promotion, Jonathan's recruiter told him, "…I can't; it's too late." So off to Boot Camp went Jonathan.
When Jonathan arrived at Marine Boot Camp, things went from bad to worse for him. According to Jonathan, "…that's when it hit me, I've been lied to." Jonathan went on to say, "everything that was said to us recruits was 'kill'…I remember plenty of times while getting disciplined, the drill instructor would be screaming we need to be ready and tougher; that we need to be able to kill a little kid…coming at you and have no physical or mental feeling towards it and carry on." For crying out loud, Jonathan is still a "kid" himself! Kids with guns killing other kids with guns; and that is called "spreading freedom and democracy" by the megalomaniacs in Washington, D.C.
Jonathan's conscientious objection crystallized even more when the time came to train with the M16. Jonathan says it best: "The force and power that the weapon contained was incredible. I held in my hands what can determine a human beings fate as well as mine. The severity of killing became more apparent when we were trained to shoot at targets in the shape of human beings. Although it was not made of flesh and blood, it made me feel depressed. I actually talked to my drill instructor on several occasions telling him, I couldn't continue with further training. I didn't fully express my objection to war or killing due to being intimidated by what would happen if I did. None the less, he [drill instructor] told me to "suck it up" and that I can't [stop training] because I signed a piece of paper called a "contract."
When Jonathan graduated from Boot Camp at Parris Island in Nov. 2004, he went home for leave. By the time he got home he was in a state of total depression and a lot of stress. It was while he was at home on leave that Jonathan filled out the military's forms to file as a conscientious objector. When his leave was over he reported to his next duty station at Camp Geiger, N.C. which is right next door to Camp Lejeune, where AWOL's and "suicides" are increasing in numbers. As soon as Jonathan got to Camp Geiger on Dec. 7. 2004, he filed his paperwork as a conscientious objector.
8 months later, Jonathan's application is still sitting on some Colonels desk. Two of the people at Camp Geiger that held up Trent Helmkamp's CO paperwork and gave him such a bad time were the same people that would be handling Jonathans application, Maj. Laws and 1st Sgt Watkins—it you remember it was 1st Sgt Watkins that called Trent a "Fucking faggot conscientious objector." No wonder Jonathan was so intimidated and did not fully express his objection to war—he was in the very same Separation Barracks as was Trent and Jonathan saw on a daily basis what the Marine Corps subjected Trent to after he made application as a C.O. 4 different young men in those barracks have attempted suicide in the past few months—something is seriously wrong at Camp Geiger and Camp Lejeune, N.C.
Over the months Jonathan has had three interviews and all three of those that interviewed Jonathan all have said the very same thing: "…all three have found me to be a conscientious objector within the military's regulations and meaning." However, Jonathan was told by Maj. Laws, "my investigating officer I appointed recommended you for a discharge but that doesn't mean that I have to." That was Jan. 2005. Since then Jonathan has heard nothing other than what his new commanding office told him two weeks ago, "you might as well start training as your application is never going to be approved."
Full Post by Jack Dalton here.
Back to Full List of Resisters
Spc. Katherine Jashinski, Texas National Guard
Army likely to deny Conscientious Objector status. Again.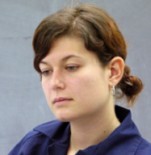 Fort Benning, GA – Army National Guard Specialist Katherine Jashinski, on active duty with the 111th ASG since January of this year, will make a public statement against war as a conscientious objector in the face of orders to participate in weapons training and deploy to the Middle East. She will be joined by several members of Iraq Veterans Against the War and Veterans for Peace. Jashinski applied for a discharge as a Conscientious Objector in 2004. The Army recently denied her claim and ordered her to weapons training and deployment this week.
Speakers at the press conference include Aidan Delgado, an Army Conscientious Objector and member of Iraq Veterans Against the War. "Iraq Veterans Against the War supports the right of every soldier to follow their conscience. Today's revelation that chemical weapons were used against citizens in Fallujah is evidence that the war is illegal and immoral."
Jashinski's counselor, Persian Gulf War Army Conscientious Objector Aimee Allison, will speak at tomorrow's press conference. Speaking today, Allison stated, "As the first woman GI to publicly take a stand against this war and to declare herself a Conscientious Objector, Katherine's actions are very significant. She is showing remarkable courage."
Jashinski's lawyer, J.E. McNeil with the Center for Conscience and War, will also discuss her legal status and the case. She comments, "Denying Katherine CO status is yet another in a long line of actions by the military to defy its own rules in order to get the numbers of soldiers they need to continue this war."
Katherine is actively supported by Code Pink, a women-initiated grassroots peace group. Medea Benjamin, co-founder of Code Pink adds, "I applaud Katherine's courageous stand against the continued U.S. role in bringing violence to the Middle East."
Father Roy Bourgeois, a Vietnam War veteran and founder of School of the Americas Watch will also speak. Jashinski's statement comes on the eve of a national demonstration at the gates of Fort Benning calling for the closure the U.S. Army School of the Americas. "U.S. foreign policy as it exists today is fundamentally out of alignment with Americans' values of peace and justice."
See also here
UPDATE:
First Female Conscientious Objector Sentenced for Refusing Deployment to Afghanistan
FT. BENNING, GA, May 23, 2006 – Army National Guard Specialist Katherine Jashinski received a bad conduct discharge today and was sentenced to 120 days confinement after pleading guilty to the charge of "refusal to obey a legal order." She was acquitted of the more serious charge of "missing movement by design." With 53 days already served (on Fort Benning), and 20 days off for good behavior, Ms. Jashinski has 47 days of confinement remaining.
On November 17, 2005, Jashinski made a public statement of conscientious objection on the eve of her scheduled deployment to Afghanistan. Eighteen months after filing, the Army denied her application for a discharge. She was then court-martialed for refusing to train with weapons.
Jashinski's superiors testified that they believed in the sincerity of her CO claim, and the Judge noted that he was convinced of the same.
Aidan Delgado
and
Camilo Mejía
, members of Iraq Veterans Against the War, attended Ms. Jashinski's trial today to support her. They described the atmosphere of the courtroom as initially tense, but said that Jashinski's powerful heartfelt testimony changed the tone of the room.
"Iraq Veterans Against the War supports the right of every soldier to follow their conscience," said Delgado. "As the first woman GI to publicly take a stand against this war and to declare herself a CO, Katherine's actions are very significant. She is a fine example of a young person standing up for her beliefs."
Ms. Jashinski is feeling triumphant and happy to have resolution
. After completing her sentence (she was released after 47 days) she will return to school at the University of Texas at Austin and continue her work with the newly founded
Austin GI Rights Hotline
.
Back to Full List of Resisters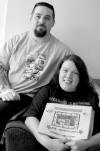 9 year Army Veteran chooses to go to Canada rather than kill or die in Iraq.
Full Article, Brave Hart, Here. Art Voice, Buffalo, NY
It's impossible to pinpoint the exact moment when Pat—previously a mild-mannered, loyal soldier—decided he would risk everything to start a new life in a new country. One critical moment that Pat does recall, however, was during some down time spent a world away, in the middle of a forsaken Kuwaiti desert. He was stationed there in 2003 with the Army's 541st Maintenance Battalion, ordering supplies for vehicles—Humvee tires, track shoes for tanks and the like. "I was like the Pep Boys of the Army," he says. He also guarded the gates at several camps—Wolf, Arifjan and the Kuwaiti Naval Base—from behind a .50-caliber machine gun. It was there in Kuwait that some of his friends, returning from a deployment across the berm in Iraq, told him horrific tales, shared with him grisly photographs and made disturbing remarks about what they'd seen and done there.
"One of my buddies is telling me that he has a six-year-old daughter," Pat says, "but now he sees the faces of these Iraqi kids that he's run over every night before he goes to bed."
Because of the increasing number of ambushes on convoys, an order was passed down early in the war that convoys were not to stop for anything. And Iraqi children, accustomed to convoys stopping and handing out food and candy, started getting run over. Pat continues, "His buddy standing next to him says, 'I don't know how many Iraqi kids I've pulled out of the front grill of my truck. Ain't nothing but speed bumps to me.'"
.....in May of last year, Pat watched British Member of Parliament George Galloway fillet the US Senate, who'd fingered him in the United Nations Oil-for-Food scandal. In Galloway's prepared statement, he turned the tables on the Senate, famously saying, "I told the world that Iraq, contrary to your claims, did not have weapons of mass destruction. I told the world, contrary to your claims, that Iraq had no connections to al-Qaeda. I told the world, contrary to your claims, that Iraq had no connection to the atrocity on 9/11/2001. I told the world, contrary to your claims, that the Iraqi people would resist a British and American invasion of their country, and that the fall of Baghdad would not be the beginning of the end, but merely the end of the beginning. Senator, in everything I said about Iraq, I turned out to be right and you turned out to be wrong, and 100,000 people paid with their lives; 1,600 of them American soldiers sent to their deaths on a pack of lies; 15,000 of them wounded, many of them forever disabled on a pack of lies." See full speech.
At that same time, Pat says, younger soldiers, 18- and 19-year-old kids, were asking him questions about the war because he'd been to the Middle East before.
"'What's it like, Sergeant Hart?' 'Why are we going over there? There's no weapons of mass destruction, and Saddam Hussein's out of power two years now.' 'Osama bin Laden's in Afghanistan, he ain't in Iraq, Sergeant Hart. What the hell?'" He found that he didn't have any good answers for his men. "What could I tell them?" Pat says. "'Shut up and do your job, because I'm an NCO and you're a private, and you're going to listen to me?' That doesn't hold much water when people's lives are at stake."
See also USA Today article on Patrick Hart
More on Canadian Resisters, here.
Back to Full List of Resisters
Robin Long is from Boise, Idaho. He received orders in March to report to Iraq and meet up with his new unit 2-2 IN in May. "I still don't think that Bush has proven we have any reason to be over there, and I would be wrong to be a tool of destruction," Robin says.
He served two years as a tanker in the US army, at Fort Knox before he left and came to Canada in June of 2005. He traveled by hitchhiking from Tofino, BC to St. John's, Newfoundland, and as far north as the north shore of the St. Lawrence during the summer months. "I have really enjoyed this beautiful country, I'm reminded everyday by its wonderful people that I made the right decision. I remember that a soldier is just a uniform following orders, a warrior is the man or woman that follows their conscience and does the right thing in the face of adversity."
On Nov. 30th he applied for refugee status in Thunder Bay. He currently lives on the north shore of Lake Superior with his partner Renée and her mother Claire. They are expecting a little war resister in July 2006. From War Resisters Support Campaign, Canada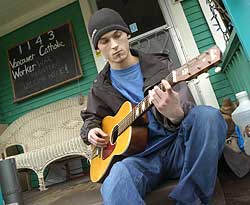 Excerpts From Vancouver Courier
Soldiers of Misfortune
By Mike Howell-staff writer
In a cluttered bedroom of a Strathcona bungalow, a U.S. military deserter talks about the day he witnessed a friend shoot a man in Iraq.
Kyle Snyder, 22, remembers having to report what he believed was an unnecessary shooting, although his friend thought the Iraqi man posed a threat.
The man was raking rocks on a roadside in Mosul. Snyder discovered later that the man lost a leg because of the wounds.
"I saw my friend completely change into this demon," says Snyder, who served almost four months in Iraq last year as a gunner on a Humvee military vehicle. "I saw his soul die right in front of me."
On the other side of the border, in a Bellingham coffee shop, Doris Kent wipes tears as she tries to make sense of her son's death on Oct. 15, 2004 in Karabilah, Iraq.
His name was Corporal Jonathan Santos. He was 22, just like Snyder. Recruited out of high school, just like Snyder. And looking to go to college, just like Snyder.
A suicide bomber in a car killed Santos, another soldier, an interpreter and 17 Iraqi civilians. A third soldier suffered major head injuries but survived.
"At his funeral, his coffin was not open because of the head injuries he received," Kent explains, her voice breaking. "I did not want that to be the last thing his two brothers saw or my mother or Jonathan's other grandmother saw."
Snyder didn't know Santos or his mother.
He'd like to meet Kent but wonders what could he possibly tell her about a war that he first thought was justified-only to find out when he got to Iraq that he wasn't there to build roads or schools.
"I would be upset at the fact that I wouldn't know what to say to her because of my belief that this war is based on lies. I can't go and say to a mother, 'Look, your son died for a lie,' because that eats up a lot of pride in that woman, I'm sure."
He takes a long drag on his Kool cigarette before finishing his thought. He's soft-spoken and introspective to the point that the constant thinking about war gives him nightmares.
Dressed in a red, hooded jacket, black toque and baggy jeans, the five-foot-four Snyder looks as if he'd be more comfortable on a skateboard than manning a machine gun.
"I would say that I believe her son-instead of fighting for the president and his administration-that he ended up fighting for the men beside him. When a war turns into that, the war is dead wrong."
Tomorrow, on the steps of the Vancouver Art Gallery, Snyder will read his "letter of resignation" as a member of the U.S. Army.
More a symbolic gesture, Snyder's words will be heard by hundreds of people expected at an anti-Iraq War rally on the grounds of the gallery.
This weekend marks the third anniversary of the U.S. invasion of Iraq. So far, more than 2,200 U.S. soldiers have been killed and another 17,000 injured.
Snyder is one of two U.S. military deserters living in Vancouver who filed a refugee claim. Another 20 soldiers across Canada have also filed for refugee status.
Some, like Snyder, served in Iraq, while others were about to be deployed there. The latest civilian death toll in Iraq is reportedly more than 30,000.
The most famous deserter is Jeremy Hinzman, a 27-year-old member of the 82nd Airborne Division out of Fort Bragg, North Carolina.
In January 2004, Hinzman fled to Toronto with his wife and young son, just days before his unit deployed to Iraq. Hinzman drew international attention when he requested asylum and commenced a refugee claim.
In March 2005, the Immigration and Refugee Board rejected Hinzman's claim, refusing to hear his argument that the Iraq War violates international law.
A Federal Court of Canada judge has since reserved her decision on whether the refugee board should reconsider Hinzman's case.
It's a ruling that Snyder is eagerly anticipating, since his application for refugee status is based on a similar argument. No date has been set for his hearing.
He is fully aware, however, that a negative judgment in the Hinzman case would certainly crush his and other deserters' chances of remaining in Canada.
The debate over deserters intensified last week when U.S. border guards in Idaho arrested Allen Abney, a Kootenay man who deserted the U.S. Marine Corps in 1968 and fled to B.C. The Canadian citizen was on holidays at the time of his arrest.
The penalty for deserting the U.S. military ranges from one year to life in prison-a sentence Snyder says he's ready to serve if Hinzman goes to prison.
Whatever the outcome, Snyder points out that he is still alive and can't imagine the grief that Kent and other mothers of dead soldiers are experiencing in the United States.
"It's messed up, man. It's messed up."
Snyder has had plenty of time to think about the war, why he deserted his platoon and why he joined the Army in the first place.
He shares an old house on East Pender Street that a branch of the U.S.-based nonprofit The Catholic Worker provided for him. He receives $70 a week from a local war resisters campaign to help him get by.
This wasn't his first stop, though.
Snyder left Iraq in April 2005 after his commander granted him a two-week leave to visit a woman in Prince George. The pair met over the Internet and exchanged letters for more than a year.
No matter what happened in Prince George, he knew he wouldn't return to Iraq. Disillusioned and aware that this country provided a haven for draft dodgers in the Vietnam era, Snyder was big on Canada.
"I wasn't lying to my commander about where I was going, but if he did not see that I was not coming back there was something wrong with him as a leader."
He flew from Iraq to Kuwait to Frankfurt to Dallas to Vancouver to Prince George. He was dressed in his uniform and carrying only his duffel bag.
Snyder stayed with his friend, whose name he didn't want published, until August 2005. Their relationship didn't work out, he says without getting into detail. So he caught a Greyhound bus to Vancouver.
"At that point, I had nobody in my life, so I hooked up with the war resisters campaign. Since then, I've been involved in this political agenda that is really, really confusing to me."
Adds Snyder: "I don't understand why I can't start a life, why I can't just go to a job, come back, go to sleep and basically have a normal life."
He wouldn't be here, he says, if he'd been doing in Iraq what he signed up to do-operate heavy machinery to build roads and schools as a member of the 94th Engineer Combat Battalion.
He enlisted Oct. 22, 2003, eight months after the war started in Iraq and more than two years after the Sept. 11 terrorist attacks in the U.S.
Snyder was finishing his Grade 12 diploma at a school in Utah when recruiter Staff Sergeant Joel Williamson-he'll never forget his name-sold him on the military.
He says Williamson promised him a college education, a dental plan, medical insurance and money for childcare. At the time, Snyder and his then-fiancé' Erin wanted to have a child.
She later got pregnant, only to lose the baby in the womb because of complications that Snyder claims could have been avoided with medical treatment.
The military wasn't there to help, says Snyder, who spent most of his teenage years in foster care in Colorado after his parents divorced. At 19, he was looking for a better life.
"I believed everything that this professional man came up and told me-that all these benefits would be there. I never before in my life had a man in a suit with medals come up to me like that. So I looked up to him. 'Wow,' I said, 'this guy wants me.'"
As he learned, there was no college education in the Iraqi desert. Nor was there any road building or goodwill work being done for the Iraqi people.
Snyder began questioning his role in the military while stationed in Germany, where he was trained to fire a 50-calibre gun attached to a Humvee military vehicle.
"I didn't quite understand that. If I'm supposed to be building roads, why am I learning to use a 50-calibre weapon? It didn't make sense."
Deployed to Iraq, Snyder became a security escort for high ranking U.S. military officials. As he did this, he witnessed the hate Iraqis had for the U.S. military.
"I don't think I saw one person there that was happy to see me or the other soldiers. It might have been that way in different cities, but not in Mosul. People would throw things at your convoy and give you these looks."
In a journal entry two months into his tour, he wrote: "Shots were fired at us right in the middle of downtown during broad daylight. Children's screams I will never forget. The smell of fresh blood. I need someone. How can I be loved if I am witness to such things almost weekly? I am a monster. Emotionless and like a machine."
Snyder was stationed at Camp Merez, where a suicide bomber killed 22 people, including 18 soldiers in a mess hall one week prior to his arrival.
It made for a nervous tour, and he began to consult with his 30 platoon mates about deserting the military. He says they gave him their full support-and still do, via email.
"I know I'm not the only 22-year-old soldier thinking this way. The fear of death is always there, but I don't want to go back to Iraq because I don't believe in that war."
In Canada, Snyder will wait out the Federal Court of Canada's decision on the Hinzman case.
Snyder's applied for a work permit and will pass the time reading his Anne Rice novels, plucking the guitar by his bed and writing more poetry in the stack of notebooks he keeps on a desk.
Snyder also has plans for a book called Child of War. Writing is therapeutic, he says. He recites a poem he wrote last month, called "The Heart of a Gun."
Solid when still, and untouched,
Yet untamed all the same,
It's still like a human,
You kill other hearts,
When there's someone to blame.
He puts down his notebook to explain the poem.
"I just think that's all a weapon is good for anymore. It kills hearts as well as physical beings. I know it kills hearts and souls. Just having it in your possession, it's like, man, you'll never be the same."
Kent would like to be in Vancouver when Snyder speaks, and maybe say a few words herself, but she can't right now. When the pain of her son's death isn't so overwhelming, she would "do it with pride."
Besides, her two other sons need her. Kent says if it wasn't for Jared, 16, and Justin, 14, getting out of bed in the morning would be difficult. Those boys are her life, she says, noting how proud they are of their dead brother.
So, as mothers and soldiers and protesters and politicians mark this weekend's third anniversary of the Iraq War, Kent will do her best to keep her emotions in check.
But that, she says, will be difficult to do at her son's grave.
"I'll be sitting at the cemetery crying. Because at this point, I feel helpless. I feel helpless that I can't do anything to stop the deaths, to stop the killings."
See this update
Sgt. Corey D. Martin
FORT DRUM, N.Y. — A federal judge will hear from Army officials next week before deciding whether a Fort Drum soldier must deploy to Afghanistan while his application for a conscientious-objector discharge is pending.
U.S. District Judge David Hurd last week issued a temporary restraining order preventing the Army from deploying Sgt. Corey D. Martin to Afghanistan or any other war zone.
Army officials will appear before Hurd Tuesday in Utica to show why an order preventing deployment should not be granted.
Neither Martin, 24, nor his lawyer, Deborah H. Karpatkin, have commented. Martin, an intelligence analyst with the 10th Mountain Division, has twice had his deployment orders rescinded, including an order to deploy Tuesday to Afghanistan.
Court documents show Martin filed his application Dec. 12. An investigating officer recommended his application be approved, court documents said.
Martin, 24, of Brookings, S.D., joined the Army for a five-year enlistment in June 2001. He said he made the decision to join the Army at age 19, six months before the Sept. 11 terrorist attacks.
In court documents, Martin said he joined when he "had no strong opinion on the justice or necessity of war," having only "vague notions" regarding Vietnam and no specific insight into the first Gulf War.
Martin said in court papers that after the attacks, he initially believed the country needed to "strike back." However, while he said he "wasn't sure about" invading Afghanistan, "invading Iraq seemed obviously wrong to me," according to the documents.
During a Christmas visit with his family in 2002, Martin said he discussed his feelings with his family and began reading anti-war literature.
Martin, who practices Buddhism, said he later realized doing his intelligence job effectively "would cause the death of a person who might otherwise live."
He said as an intelligence analyst he would have little risk of personal harm in Afghanistan. Martin said he also recognized that by refusing to go, he faced possible reduction in rank, a loss of pay and benefits, imprisonment, a bad-conduct discharge, a criminal record and poor prospects for future employment.
"I am adamant about refusing to go to war ... Although I hope I can avoid it, I am prepared to suffer consequences before I violate my conscience," Sgt. Martin said.
Update:
From NYCLU
NEW YORK -- Under pressure from a New York Civil Liberties Union lawsuit, the U.S. Army has granted Conscientious Objector (C.O.) status and honorable discharge to Sergeant Corey D. Martin, whom the Army previously had tried to deploy while his C.O. application was still pending, the NYCLU announced today.
"We're thrilled to have thwarted the army's effort to subvert Corey Martin's application and deploy him to a combat zone," said NYCLU Executive Director Donna Lieberman. "The Army has finally granted him the fair and constitutional treatment he deserves."
Martin was stationed at Fort Drum, New York as a Sergeant . He applied for discharge as a Conscientious Objector in December 2005 after realizing that he was ethically opposed to war. The Army granted first-level approval to Martin's application for C.O. status, but then, while two more levels of approval were still pending, it informed Sergeant Martin that he would be deployed to Afghanistan on March 14, 2006.
In response, the NYCLU filed a federal lawsuit on Martin's behalf and obtained an injunction to prevent the Army from deploying Martin to Afghanistan while the application was pending.
Last week Martin was finally awarded his official C.O. status and has now been honorably discharged from the army. Next week the NYCLU will ask a federal judge in Syracuse to dismiss the lawsuit.