Army Specialist Suzanne Swift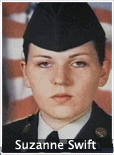 From Democracy Now! Excerpts.
Update Below January 9, 2007
AMY GOODMAN: We're joined now in Portland, Oregon by Sara Rich. She's the mother of the Army Specialist Suzanne Swift. We welcome you to Democracy Now!
SARA RICH: I'll tell you what happened to Suzanne. When Suzanne was 19, she was recruited into the Army, and they promised her she would never go to Iraq. The first thing they told her when she went to basic training is that she was going to Iraq and that she was going to die. She got home from her basic training and was immediately sent to Iraq, where we thought that she would be facing danger from the war, but mostly she was facing danger from her sergeants that were in charge of her.
She spent a year there and I sat on my hands not saying anything because she said that if I said anything about the sexual harassment and assaults, that she would be in more danger than she was in already. When she came home, I said, "Can I say something now?" She said, "No, please don't, mom. I'll just get in so much trouble, and I'll be a traitor to my country and to my unit. So I didn't say anything, and then within a month of her being back, her sergeant -- she reported to her sergeant and said, "Where do I report to in the morning, sergeant?" And he said, "In my bed, naked."
At that point she broke and decided to go and tell, and he was moved to a different unit, and she was shamed and treated terribly by her unit for some time. Then they told her she was going to be redeployed. We thought she would have 18 months of stabilization time. And they forced her to sign a waiver waiving her rights to 18 months and were sending her back 11 months after her first return from Iraq. She then prepared to go back to Iraq, and three days before her deployment, she had her keys in her hand. She was in the kitchen, and we were looking at each other, and she said -- she turned to me, and she said, "Mom, I just can't go back." I said, "Are you serious?" She said, "I'm serious. I can't go back there."
And from then on, she decided to go AWOL from the Army, and that was six months ago. During that time she's been seeing a psychologist, dealing with her post-traumatic stress disorder, and planning on turning herself back in. However, on Sunday night, the Eugene Police Department came to our house at 10:30 p.m., when we were all in bed, and came to the house and arrested Suzanne and took her to jail and now she's been taken back to Fort Lewis and put back in active duty with her 54th M.P. unit.
AMY GOODMAN: Have you had a chance to speak to her there?
SARA RICH: I sure have. I sure have. She -- I talked to her on Tuesday, and I spoke to her on Wednesday, yesterday.
AMY GOODMAN: What did she say?
SARA RICH: She said, "how can I help, mom? What can I do?" I said, "sweetheart, just stay safe." They took her back and they put her under the care of one of the sergeants that we are actually pressing criminal charges against for the harassment in Iraq. So I called her attorney immediately, who was already on the base, for her, and he got her changed, and we got a no-contact order with that sergeant.
AMY GOODMAN: We invited the military to join us on the program, but they declined. However, Tammy Reed, a spokesperson from Fort Lewis where your lawyer is being held, in Washington, provided the following statement:
Tammy Reed, Ft Lewis military spokesperson:
Specialist Swift has returned to Fort Lewis and is on duty in her unit. She will in-process back into the installation on -- today, Wednesday, June 14. She has also been restricted to her unit area and her pass privileges have been revoked, meaning she cannot leave Fort Lewis. Her chain of command is thoroughly investigating the circumstances surrounding her absence from the unit and no charges have yet been filed.
Because the matter is under investigation, and for privacy reasons, we cannot discuss details of Specialist Swift's case. The Army is committed to ensuring that every soldier is treated with dignity and respect, and the commanders take very seriously any claims of mistreatment, and investigate each claim thoroughly to determine the facts of the case and take appropriate action.
AMY GOODMAN: Tammy Reed is a spokesperson at Fort Lewis, Washington where Suzanne Swift is now being held. She's released from prison, she's with her unit. We're talking to her mother Sara Rich in a studio in Portland, Oregon. Sarah, can you talk more about her experience in Iraq, and were there other women in her unit?
SARA RICH: From what I remember, there were two other women in her unit, and most of the time the three women were separated and had their own rooms. Her experience with the war -- she was a Humvee driver so she was the driver of a Humvee for a combat patrol when she was in Karbala in Iraq, and she -- I think we were both just so shocked at the treatment that almost every one of the soldiers, the male soldiers gave her that we didn't quite know what to do for the first couple of months. Well, and we couldn't do anything because she would have been a traitor to her country and to her unit if she had spoken up.
There was one soldier who was her confidant and her friend and helped her, and when she was in real trouble or really scared of some of the sergeants and what they were doing to her, he was the one that would give her solace and comfort. She said he was the only man that was faithful to his wife in that unit, and how much she cared about him, and he's still her friend today.
So she encountered so much harassment that -- it was daily, sometimes it was hourly. She was punished. She was in her own room so she had -- you know, the some of the sergeants, especially this one main sergeant had access to her all the time. He would show up in the middle of the night, intoxicated, wanting to have sex with her and if she said no, she would be punished. She used to say, "He's just insane, mom. He's an insane person, and I'm scared to death."
AMY GOODMAN: And explain, then, how she told others about what happened, her superiors, when they had him moved to another unit, not punished, but moved, is that right?
SARA RICH: This is somebody else. She has not reported this one. The only one that she reported was after she got back from Iraq and had been serving as a military police officer in Fort Lewis. Her direct supervisor, or the person she reported to, was the one who did that and he was a different sergeant. And he is one of the three we are going to be pursuing with criminal charges soon.
AMY GOODMAN: Suzanne Swift, right now, talking about the person that she had to deal with, even at Fort Lewis, explain there.
SARA RICH: And she was serving as a military police officer in Fort Lewis and she -- this is the one that when she went up to them the night before she was supposed to report to duty, she said, "Sergeant, where do you want me to report to?" and he looked at her, and it was in a group of people, and he said, "In my bed, naked." And that was the straw that broke Suzanne's back, and she said, "I can't do this anymore."
She turned around and went immediately and reported him. They were both investigated. She said she was treated horribly, that it was basically her -- both of their faults, that they were both culpable for the harassment and the involvement, and he was moved to a different unit, and she told me that he was promoted. I'm not sure if that's accurate. And then she was treated like a traitor. She called me, crying, for days afterwards because people would call her names, and not look at her, and not talk to her and it was very stressful and very sad for her, the way people would respond to her finally speaking up for herself.
AMY GOODMAN: SARA, why did Suzanne join the military?
SARA RICH: Well, she got a real good deal, Amy. They -- the recruiters really wooed her. She was in a -- She had graduated from high school. She was in a dead end -- well, she working at Safeway, and she was miserable. She hated going to work every day. She didn't know what to do. You know, we looked at college, and she just said she wasn't ready for college, and the recruiters were calling our home. They have our home number, and they were offering her travel and college money and training and if she signed up for the special deal of being a military police officer for five years instead of four, she would not be deployed to Iraq, because at that time they weren't deploying military police to Iraq, she was told.
AMY GOODMAN: And yet, she was deployed.
SARA RICH: Immediately.
AMY GOODMAN: What are your thoughts right now, Sarah, as Suzanne's mother, what do you want to happen right now? And will you be suing the military?
SARA RICH: Well Suzanne is -- you know, this has gotten bigger than Suzanne. Right now I want Suzanne to have an honorable discharge because she has post-traumatic stress from being treated so horribly in a war zone by the people that were supposed to be caring for her and in charge of her very life were molesting and harassing her so I want Suzanne's rights to be honored, and I want her to be discharged from the Army with full benefits because her emotional and psychological well-being is so compromised.
But what's really surprising me, Amy, is the amount of women veterans that have been calling and emailing, saying, "That's exactly what happened to me, and nobody listened." It breaks my heart, and Suzanne is just shocked at how many people are supporting her and saying, "You're not alone and you're not crazy. That's what happened to me, and it wasn't your fault." And that's the big thing for Suzanne because she has really thought that this was all her fault.
AMY GOODMAN: Are you sorry she joined the military, Sara Rich?
SARA RICH: Oh, so sorry, so sorry that she joined the military, and that's one of the things I do, I'm a counter-military recruiter now, and Suzanne has said, "Mom, I want to join you as soon as I'm clear. I want to join you and tell kids what the recruiters are really doing. It's really like selling your soul to the devil to go be human fodder for an illegal war."
AMY GOODMAN: What do you do as a counter-military recruiter?
SARA RICH: We go to rural high schools, especially rural high schools because that's where the recruiters go, where there's kids that don't really have the money for education, where they don't have anything to do other than, you know, work in a gas station, possibly, that's, you know, what they have to look forward to. So when the recruiters come and they say, "let me take you out to lunch, let me give you this, let me promise you a college education. Let me promise you a future. Let me promise you world travel. And, you know, you probably won't go to Iraq, it will be over by the time you get in."
So we go and we talk to these kids and we get them real fired up, but it's the kids that are already with us that are already against the war that are -- you know, because this isn't about anti-military, this is about the way that our military is being deployed and treated as human fodder that is so wrong. And we get these kids fired up, and they're the ones that work with their peers. They're the ones that are most effective in telling their peers, "Don't sign up. Are you kidding me? Don't risk your life."
AMY GOODMAN: SARA, if people want to reach you, do you have a website or an email address that you want to share? Remember, this is public; it goes out on hundreds of stations so you could get a lot of mail.
SARA RICH: Sure, somebody did set up an email account, and it's at Yahoo, and it's ForMyDaughterSuzanne@yahoo.com. And yeah, I'm already getting a lot of email. I was up for hours yesterday answering the emails.
AMY GOODMAN: SARA Rich, we look forward to speaking to you again. We'll certainly follow your daughter Suzanne Swift's case. I just want to thank you for joining us from Portland, Oregon.
SARA RICH: Thank you, Amy, so much.
| | | | |
| --- | --- | --- | --- |
| Suzanne Swift released from the brig, supporters rally outside Ft. Lewis | | | |
On December 14 Swift was convicted by a summary court martial for missing movement and being AWOL. She was sentenced to spend 30 days in confinement and must stay in the military until 2009. She was released this morning with time off for good behavior. "Suzanne faced her court martial with strength and respect. I was more than proud of her," said Sara Rich, Suzanne's mom, following her court martial last month.

Swift's case had garnered national attention since she was arrested at her mother's home in June 2006. Swift had gone AWOL just before her military police unit was to redeploy to Iraq in January 2006. During her previous tour of duty in Iraq in 2004 and 2005, Swift was sexually harassed and assaulted by superiors.
SPC Agustín Aguayo, US Army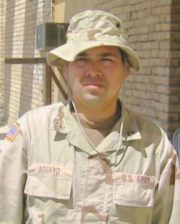 From the AquayoDefense.Org
Aguayo realized after about one year of service in the military that his beliefs had changed to the point that he could no longer in good conscience be a part of the armed forces. He first applied for discharge as a conscientious objector in February of 2004. While his application was being processed, he was sent to Iraq as a medic, where he refused to load his weapon even when put on guard duty. His application was denied by the Army while he was still in Iraq, but because it had been seriously mishandled, he had a chance to challenge the ruling by filing a habeas corpus in federal court.
The habeas corpus was denied on August 24, 2006, and exactly one week later, Aguayo's unit in the 1st Infantry Division was to deploy once again to Iraq. He made it clear to his chain of command that as a conscientious objector, it was against his beliefs to participate in war in any form and he would not deploy. Check out Aguayo's official statement submitted in Federal Court as to why he would not deploy!
So after nearly three years of struggling with the US Army to be recognized as a conscientious objector, Agustin Aguayo went AWOL (absent without leave) on Sept. 1, 2006 and missed his unit's deployment to Iraq. The following day, September 2, 2006, he turned himself in to the MP station where his wife filmed his statement before turning himself in. Check out the film here!
However, instead of facing a court-martial, he was told by Army personnel that he would be going to Iraq, even if they had to forcefully put him on the plane i.e. shackle, hand-cuff, confine him until the deployment, and/or carry him on the plane. Knowing of no other option, Aguayo fled the military base in Germany and remained in hiding until September 26, 2006. On September 26, 2006 he held a press conference in "La Placita Olivera" Los Angeles, California. There he expressed his beliefs against killing and war. In a bold move, he and a caravan of supporters drove up to Fort Irwin, Barstow, California where he, again, turned himself in. Read details and see pictures of that day.
On October 3, 2006 personnel from the 1st Infantry Division came to get Aguayo in California and took him back to Germany. He currently sits in pre-trial confinement in Mannheim Prison, Coleman Barracks, Germany. Check out the story in Stars and Stripes!
Update On March 6, 35-year-old Army medic, Iraq veteran, and conscientious objector Agustín Aguayo, was sentenced to eight months in a military stockade for desertion and missing movement at the US Army's Leighton Barracks in Wurzburg, Germany. See more at Courage to Resist.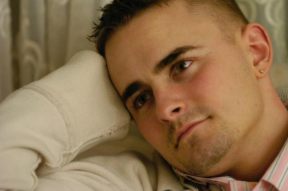 (CBS) During the Vietnam war, many young men who were drafted and didn't want to go to war fled to Canada. Today, a small group of soldiers and Marines are doing the same thing in protest of a war they say is unjust.

When you contemplate the danger and the violent death that are ever present factors in Iraq, you may wonder how Americans charged with fighting the war there can bear it.

The reality is that some of them can't take it. Justin Colby, 23 was inspired to join the Army to avenge the events of September 11.

"I thought that was something I wanted to do," he told Sunday Morning correspondent Rita Braver. "So I approached a recruiter and said, 'Sign me up.'"

On July 4 of this year, as his unit was about to be redeployed to Iraq, Colby became a deserter. And in September, he joined a small, but growing number of American servicemen who have sought refuge in Canada. Estimates say there are between 100 and 250 of them.

Before he decided to desert, Colby served heroically in Iraq. Starting in late 2004, he served a year as a medic there. He received the Army Commendation Medal for exceedingly meritorious service for his work while under fire. He said his base was constantly barraged by mortar and rocket attacks and he had a couple of close calls during his year there.

"The rocket landed within 15, 20 meters of where I was standing," he said.

But Colby was becoming disillusioned with the war in Iraq, especially because it became increasingly clear that Iraq, and its dictator Saddam Hussein, was not behind the attacks of 9/11.

"When I realized these people we were killing — 'cause we killed a lot of [them], I saw a lot of dead people — when I realized the people we were killing had nothing to do with 9/11, that's when I was, like, 'Okay, this is not for me! This, ya know, I was wrong.'" From CBS
Another story at The Denver Post, which also includes an excellent video interview.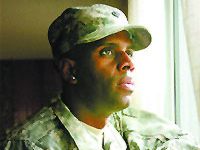 If he had any doubts upon arriving here, big news from back home likely erased them.
It was 5 p.m. Wednesday when Linjamin Mull, stepping off a bus in downtown London, ended a two-week journey that turned him from an American soldier to expatriate, just as the Iraq war controversy flared again in the U.S.
That same day, the U.S. government announced troop deployments to Iraq -- a war Mull refuses to join -- will be extended from 12 to 15 months.
"Most people don't have the courage to leave," said Mull, a New York City social worker and graduate of Southern Connecticut State University.
"It's a big difference if my country was attacked -- I was there for Sept. 11 . . . or Kosovo, (where you're) preventing ethnic cleansing. Then you have a purpose. (Iraq) is a form of American imperialism."
Mull, an articulate 31-year-old, recently went absent without leave from his training at Virginia's Fort Houston.
He applied for refugee status in Toronto with the help of Canadian sympathizers, one of whom has opened her London home to him.
His opinions are similar to those of the estimated 13 (Tom Joad: actually, probably ten times that number, as many are not public in their opposition) other U.S. soldiers who have fled to Canada, risking imprisonment upon returning to the U.S. None of them has successfully applied for refugee status in Canada.
From Canoe Network

From New America Media
SAN FRANCISCO - When 27 year old machine gunner Chris Teske was in Germany with the US army he decided he couldn't go to Iraq. After two tours in Afghanistan he'd been honorably discharged but they called him back to service to train young soldiers in the use of the 50 calibre machine gun. He had reached a point where, according to his wife Stephanie he had to stop. He couldn't take responsibility for arming these young men since, as Stephanie says, "the racism against the Muslim culture that was all through the army there, really got to him". He decided to escape. He and his wife spent a couple of months researching desertion and finally decided to go to Canada.

"We wanted some place where the language wasn't a problem and our family could drive to see us" says Stephanie. But they had to get out of Germany first.

Soldiers don't have access to their passports. They have to use only their military ID to travel so the Teskes had to try and fly out of Germany minus a passport. Stephanie pled their case. "I cried a lot and told them we'd spent $3,000 on these tickets and my parents were waiting for us and frankly, we just got lucky." They flew to North Carolina – their home state – jumped in a car and drove straight north. They had help with places to stay and food from the war resisting community on both sides of the border until they reached Toronto, October 11th, two days after Canadian Thanksgiving.

Soon after they applied for protected refugee status which allows them to work and provides them with health insurance until the court hears their case, which could take up to a year.
Listen to Chris and Stephanie here.
Dean Walcott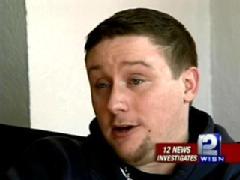 Walcott is a Marine from Connecticut. He volunteered to serve in Iraq.
"As far as I know there's an FBI warrant out for my arrest," Walcott admitted. "I reenlisted before I knew anything was wrong. (I) was with the military police and all we ever did was run convoys around a very little part of Iraq."
Walcott said his view of the war changed shortly after an assignment at the Landstuhl military hospital in Germany.
"Basically, our job there was to make sure the injured and dying Marines were made as comfortable as possible," Walcott said.
After Walcott arrived, there was a rush of casualties from a bombing at a mess hall in Mosul, Iraq.
"People were coming in missing legs, missing arms. They had to be put on feeding tubes, they weren't able to breathe without help of a machine," Walcott said. "At the time, I was dealing with a lot of emotional problems. I was pretty messed up from dealing with work at the hospital. It was a rewarding job, but it was very, very difficult. So I'd asked to be put somewhere that was non-deployable, so I could get mental help, which the command graciously decided not to let me do."
"There was a lot of times that families would come to visit them in the hospital and see their dead or dying son or daughter, and (they) would yell at us and would hit us. It was misdirected anger, but to my way of thinking, it was understandable," Walcott said.
Source: The Milwaukee Channel